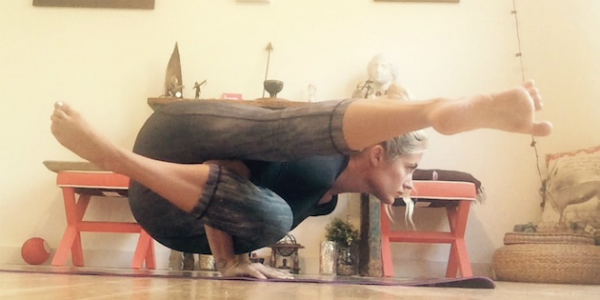 Kathryn Budig's Gratitudasana: Eight-Angle Shoulder Hug
YogaJournal.com is challenging you to get in the season's thankful state of mind with gratitude-geared practices all month long. Share yours using #yjgratitudechallenge.
By Kathryn Budig
I am immensely grateful for the practice of yoga and what it provides me. My appreciation used to be for the physical benefits-the strength and the shape it gave my body, the amazing postures I could execute with enough discipline, and the knowledge that my body and mind linked together are endlessly powerful.
After tending to a shoulder injury for the past month, though, I became grateful for yoga in a very different way. Replacing all vinyasa with simple yin and long walks made me thankful for its patience; for the permission to rest and take a break; for the reassurance that it would be right there waiting for me whenever I was ready to return.
See also Coral Brown's Daily Mindfulness + Gratitude Practice
Taking that month to let my shoulder recover left me feeling strong and connected. I chose this posture as a celebration of my gratitude to the practice for waiting for me and a demonstration of my love for my (healthy-again) shoulder. How better to show love than with a hug?
I hope you'll enjoy this fun variation on the traditional shoulder-hugging Astavakrasana (Eight-Angle Pose) as much as I do. It's a next step for those of you looking to spice up the traditional pose a bit. If Astavakrasana is new to you, then let that be your journey! Or take it from me, hanging out in Step 1 or deciding that today isn't a great time for asana at all are both totally valid. No matter what, be honest and gracious with your choices and know that yoga is always here to offer you just what you need.
To see the slideshow and her tips, click through to Yoga Journal.
Posted on: November 13, 2014