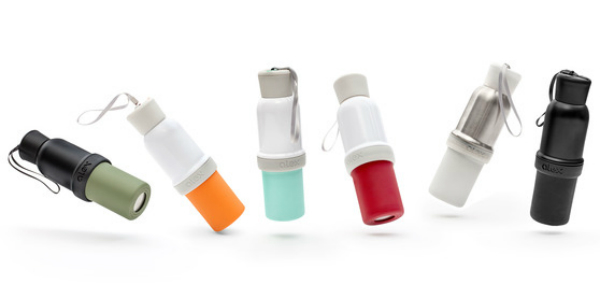 Upstarts: Gretchen Bleiler Debuts ALEX Bottle 2.0
By Kailee Bradstreet
ALEX was launched back in 2010, and was derived from the concept of a "do-good bottle." Headed up by Olympic silver medalist and environmental activist Gretchen Bleiler, and her entrepreneur husband and former professional snowboarder Chris Hotell, ALEX bottle's mission was to create beautifully designed products that make it easy to live sustainably. The first product came to life when the couple stumbled upon a design for a sustainable water bottle that opens up in the middle for easy cleaning and then compacts to half its size when not in use.
The company took a brief hiatus in order to further innovate and improve the product, and is back with an updated version made with 100% BPA-free premium grade stainless steel and a strap constructed from 100% recycled water bottles. The full update about ALEX can be found on the company's Kickstarter campaign page, which launched a little over a week ago and has nearly 900 backers. Here's more details from ALEX, plus a look at the 2.0 product:
ALEX 2.0 is dishwasher safe, compactable and fits most cup holders and bike bottle cages. The new features of ALEX bring a slimmer design with a new mid-body sealing system as well as a durable soft-touch silicone sleeve that protects the bottle while giving you endless color combos to choose from.
"With ALEX, we made a beautiful product that I'm excited to use day in and day out, and the design is stronger and more functional than ever," said Bleiler. "We are giving people simple solutions to create less impact on the environment which is something that has always been important to me personally."
ALEX may be ridiculously good looking, but it's what's on the inside that counts. Made with 100% BPA-free premium grade stainless steel and a strap from 100% recycled water bottles, ALEX naturally attracts health conscious citizens of mother earth.
· BPA Free Premium Grade 304 Stainless Steel
· BPA FREE Polypropylene #5 Cap and Mid Body Band
· ALEX is top rack dishwasher safe
· Fits ice cubes, but not rapper Ice Cube
· Strap made from recycled plastic bottles
· Fits most cup holders and bike bottle cages
· Cap covers bottle lip
· Smoothie, powder drink and oatmeal-friendly
· All sealing parts made from premium Food Grade Silicone
· Conceived in the USA, Responsibly made in China
ALEX launched its Kickstarter campaign on Monday, November 3rd with the hopes of raising $50,000 to fund their first production run of ALEX 2.0. As a small business owners, Gretchen and Chris have always been inspired by the Kickstarter culture and wanted to introduce the new-and-improved ALEX bottle to the world through its diverse and supportive community of design-conscious people.
See the full story here at Transworld Business.
Posted on: November 14, 2014