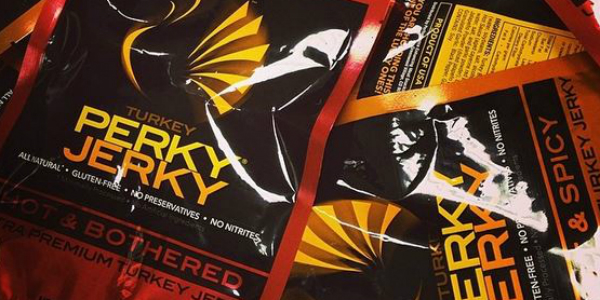 Perky Jerky Revolutionizes Snacking
The snack game officially changed and it's all at the hands of Perky Jerky. That's right, flavored beef and turkey jerky that will have you asking yourself where this product has been your entire life. So what makes it so much more desirable than the mass jerky market?
It all starts with the flavor. Super tender cuts of meat are marinated overnight while they soak in the all-natural ingredients that make your mouth oh so happy.
The available flavors are:
Original (Soy sauce, lemon and brown sugar)
Sweet & Spicy (Sweet Jalapeno but not overly spicy)
Teriyaki (Soy sauce and ginger)
Hot & Bothered (Pepper and garlic)
AND our favorite, the all new Jamaican Style (This one will make your cheeks come alive in a great way)
The real differentiators with Perky Jerky are the FACT that it's healthier than most other snacks available on the market today.
All of the delicious flavors are fat-free, low calorie, low carb and high in protein. Some of the flavors are gluten free as well catering to a wide array of dietary restrictions. We have now tried all of the flavors and can recommend every single one based on amazing flavor and health benefits. Cut back on the carbs and snack on Perky Jerky all day long.
Check out the full story over at Gearminded.com
Posted on: November 19, 2014