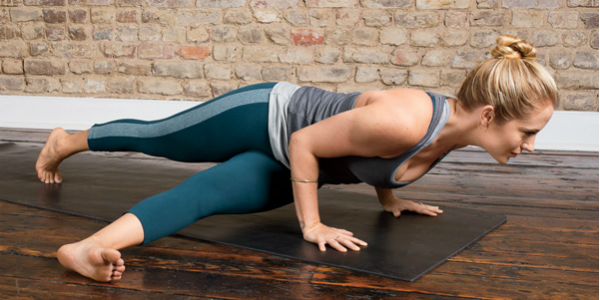 9 Quick Pick-Me-Up Power Yoga Moves
By Kathryn Budig
With holiday craziness and giant meals looming, you need a quick workout that will sculpt lean muscle and melt stress. The solution? This energizing yoga flow.
Let me give you a reason to bend over backward right now-and I do mean literally. Putting a fresh twist on your yoga practice can deliver a mega shot of instant energy, which, let's face it, we could all use at this time of year.
We're always talking about the calming and restorative powers of yoga, and for good reason-there are plenty of them! But the exercise is no one-trick pony. Backbend poses (like wild thing, for example) are amazing for releasing endorphins and increasing energy. Crescent pose opens the heart, which releases tension in the chest and can actually make you feel lighter and brighter. Other twisting postures stimulate the digestive system, help improve circulation, or rev your internal fat burners to help you torch more calories throughout the hectic holidays. What's more, it doesn't take long to score all of these benefits-we're talking as few as 10 minutes, people!
So whenever you need a pick-me-up-whether it's first thing in the morning, before an important meeting, or after a frustrating argument with your significant other (or mother-in-law)-just follow this flow. Hold each pose for one to five breaths and repeat on both sides. Aim for three to five rounds total. Ready, set, energize!
Click here to see the workout over at Women's Health.
Posted on: November 21, 2014