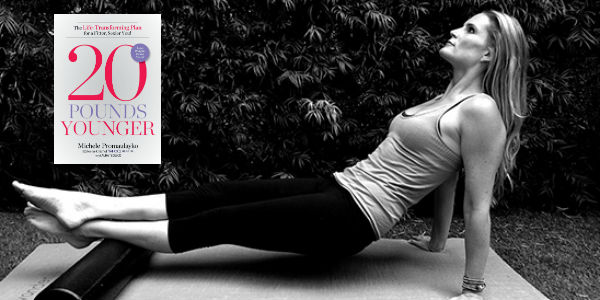 Lauren Roxburgh Featured in "20 Pounds Younger"
Lauren Roxburgh has contributed tips about body alignment to the fantastic new book, "20 Pounds Younger: The Life-Transforming Plan for a Fitter, Sexier You!" by  Michele Promaulayko.  Read the description below, and be sure to pre-order your own copy now!
Ever wish you could have the top experts in weight loss, nutrition, fitness, and anti-aging available to answer your pressing questions—and to coach you to become your fittest, healthiest self? Well, now, you can! In 20 Pounds Younger, Michele Promaulayko shares insider secrets that she learned directly from the country's smartest minds in wellness as the editor-in-chief of Women's Health and now at the helm of Yahoo Health, a digital magazine. Promaulayko presents a plan of action for melting stubborn fat, toning and shaping muscle, and erasing the aging effects of stress and poor health habits.
For women, belly fat is the #1 age accelerator. It contributes to diabetes, chronic fatigue, heart disease—all the inward and outward signs of aging. But now 20 Pounds Younger gives you effective weapons against belly bulge and many other confidence-crushing issues. You'll get strategies to neutralize cravings and emotional eating and a 6-week strength-training plan that will tone every inch of your physique and turn your body into a round-the-clock fat-burning furnace.
Inside you'll find:
The 20 Pounds Younger "Eat Sheet"—a checklist that makes nutritious eating easy
A 6-week get-fit guide to increasing your metabolism and strength
Brain tricks to overcome cravings, plus an exclusive mindful-eating workshop
Simple pointers for younger looking skin and step-by-step beauty boosters
Energy-enhancing techniques for reducing stress and sleeping more deeply
Posted on: December 2, 2014