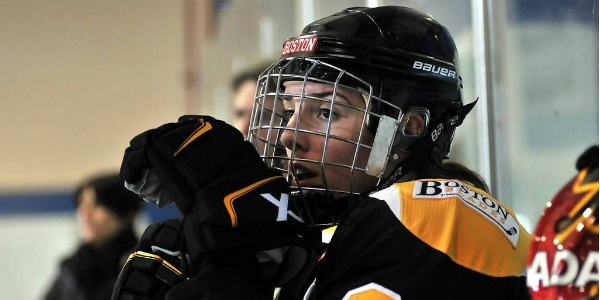 ESPN Filming Boston Blades Games Around Hilary Knight
ESPN filming games around Blades Hilary Knight, a featured athlete in the explosive ESPN The Magazine's Body Issue 2014 where she tastefully got puck naked!
BOSTON, Mass. – The Boston Blades hockey club will wrap up the first half of its season this weekend in 3 games vs. the Calgary Inferno. The Blades came out of the gate with a strong start winning their first 3 games against Montreal and Toronto, and over the Thanksgiving weekend, the Blades returned to the ice, spitting their series with the Brampton Thunder. The team enters this weekend 4-3 for the season.
ESPN will be filming two-time silver medalist Hilary Knight, featured speaker at the 2014 espnW Summit and featured athlete in the ESPN The Magazine 2014 Body Issue. Wanting to promote a healthy, positive body image for women, Hilary says of her nude appearance in the Magazine, "I'm proud to have muscles and be feminine while having muscles. I'm very confident and fit and healthy in my body." Committed to growing equitable opportunities for female athletes, Hilary says, "We sort of have this stereotype that women's hockey is that much different than men's hockey when really hockey is hockey! I want to continue to challenge myself…I'd like to see where I can find myself in the men's game."
Looking for a sweep in their 3 games against Calgary, the Blades return at the Allied Veteran's rink in Everett Mass at 7:30pm on Friday and then to UMass Boston's Clark Arena for games at 7:30pm Saturday night and again at 12:30pm on Sunday afternoon. The team's impressive roster includes 12 US Olympians and National Team players and 2 Canadian Olympians.
Don't miss your chance to see our hometown women's professional hockey team and get your tickets now at boston.cwhl.ca . Tickets are $15 and children under 6 are free. You can also check out our website to see how we're partnering with local youth hockey – teams can be part of the Blades experience by being a team captain or scrimmaging between periods. You can also see the Blades practice on Tuesday nights at UMass Boston at 8:00pm.
Click here for the full story.
Posted on: December 5, 2014