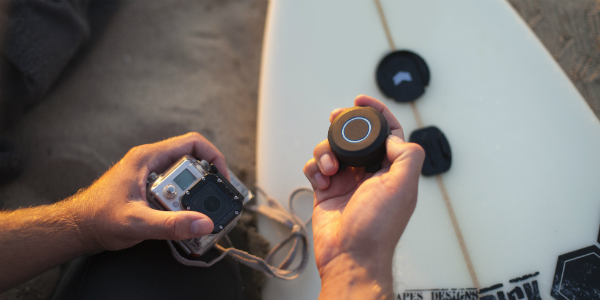 AlplineReplay Founders Introduce Trace
By Kelsey Smith, Transworld Business
POV technology has changed the way we consume our sports, literally and figuratively. These products have allowed the everyday enthusiast to take an active and analytical approach to their craft, and at no surprise, has consistently been one of the fastest growing sectors of the market.
Introducing a new product to the POV playing field is the Trace. From the company that developed AlpineReplay, an app that tracks on-hill statistics like vertical, speed, distance, and airtime, Trace's Co-founders Dr. Anatole Lokshin and son David Lokshin have taken it one step further to create this new platform. Trace is about the size of a Reese's Peanut Butter Cup, attaching to any moving surface and tracking dynamic stats specific to the athlete using the product. "Trace can detail every turn on a 100-yard Rincon right and measure a backflip off a 20-foot kicker at Mammoth," as explained on the company's Kickstarter campaign that successfully ended in September of 2013. Trace is compatible with a smart phone or a GoPro, amongst other things, to then cut the best moments of your day revealing those moments in a series of video edits – color corrected and all. Basically, Trace does all the hard work.
We had the opportunity to sit down with Trace Co-founder and CEO David Loshkin to understand the capabilities of the product and the inspiration behind its inception.
Can you touch on your background and why you and your co-founder decided to develop these technologies [AlpineReplay and Trace]?
My father, Dr. Anatole Lokshin and myself developed Trace. He was one of the early developers of GPS technology. As CTO of Magellan Navigation he was, for many years, one of the enablers of the GPS revolution. We believed that sensors are the next wave after GPS. Plus we love to ski, snowboard, and surf. It was a perfect match.
Why do you think it's important for Trace to be introduced into the action-sports market?
If you look at other sports—running, cycling, car racing, baseball — people who are passionate about those sports have all sorts of ways to learn, improve, and relive their activities and action sports doesn't have that. It may feel like the best cutback ever, or the longest wave ever, but was it really? And are you getting better going down black diamonds or in the park? There's never been a way in action sports to keep track of progress or quantify your activity. Trace changes that.
Talk about how the POV content is broken down using Trace.
We take the pain point out of editing action video (like GoPro). To get a two-minute highlight clip you have to sift through hours and hours of footage. That's why some GoPro's or other action sports cameras sit on the shelf and come out only if the conditions are perfect. We take all of the pain out of that. Your highlights are auto-edited, color corrected, clipped and sorted. So that means you can go back and search for your longest wave, fastest ski run, or highest jump and Trace will automatically sort all of your clips for you.
For backcountry riders, does Trace interfere with Avalanche Transceivers?
Short answer: No, it doesn't.
Technical answer: Trace is a passive device that most of the time records sensor data into its internal memory. The only transmitting part is LE BT. LE Bluetooth is low power and works at frequency of about 2.4 GHz. The Avalanche Transceivers work at much much lower frequency – 457 kHz so there is no interference. There are newer W-Link Avalanche beacons that work at 869.8 MHz and 916 MHz. These frequencies are still very far from BT. Also these frequencies are protected, and Trace BT module is certified by FCC that it does not interfere with bands outside of the nominal BT band.
How does the technology aim to help athletes?
Trace is focused on measuring performance and aiding improvement. The major goal is to provide athletes with accurate and relevant data while requiring minimal efforts from the user. Trace has only one button – press it and go, we will do the rest. Users can shoot hours surfing video (via GoPro, iPhone or other booth tooth-synced cameras), then simply put the file into DropBox or Google Drive, and in minutes you get edited highlights, with our overlay, color corrected, and annotated. You can then go back and search videos by performance: "What was my longest wave at Trestles in 2014" or "Give me all jumps at Mammoth with more than 1.2 seconds of air." And all this is done by the Trace technology without any human intervention. To get this simplicity took us a lot of work and very sophisticated algorithms.
Along with the social community Trace offers, what are the main features the device and platform provides for athletes looking to grow in their sport?
We hope that Trace will help to grow Action Sports by providing a global network where enthusiasts can track their progression, compare their results, learn about others and showcase their ability. At the same time Trace is the first device that can truly measure and recreate the complicated motion of an athlete. While there are other products that can measure distance and speed, Trace is the only device today that can accurately measure 3D motion of a snowboard, skis or a surfboard, or any other equipment that Trace is attached to. We can measure jumps, "tricks", cutbacks, air reverses, and more. Trace Snow and Trace Surf phone apps provide Trace users with a lot of information about their session. All this analysis is done instantly and automatically without any effort on the athlete's part.
We also are working with top athletes and brands to help develop new equipment based on much deeper analysis of performance. For example, we can quantify and describe the difference between two sets of fins (surf), or measure landing shock and ski angle off of a slopestyle jump. This kind of fine detail can help an athlete select the right equipment for the conditions or help a manufacture fine tune their product.
What's the growth strategy for Trace? Where do you see it going in the future?
We have a lot of plans and ideas for Trace as a platform and as a device and we want to be working on this for the next decade or more! Our effort at the moment is focused on giving skiers, snowboarders, and surfers more information about their performance so that they can improve and progress their sports. We are excited to partner with athletes and develop an athlete ambassador program come 2015.  We've pioneered the merging of video and performance data and will continue working aggressively in this direction.  We would like to work with brands within action sports to develop unique video content.  And we want our overlay to be broadcast at the next winter Olympics!
At this time, Trace, which retails for $199, is available at www.TraceUp.com. We look forward to partnering with retailers in the future.
Click here to read the full story at Transworld Business.
Posted on: December 12, 2014