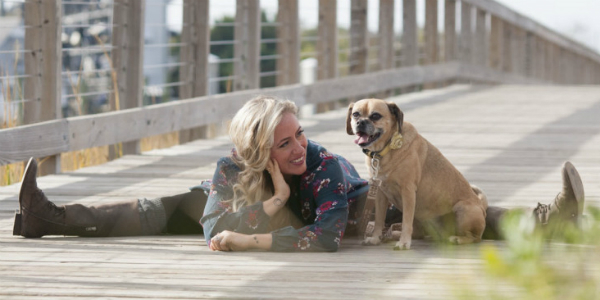 Living Big: Kathryn Budig
BY CYNTHIA GROSECLOSE, SaltAndWater.org
A few years ago, a friend and I decided to take a yoga workshop with Kathryn Budig. I had seen Kathryn in Yoga Journal and Women's Health Magazines, but I had never been introduced to her style of teaching. There was a moment during the workshop I was struggling to stay in a backbend and Kathryn came over, offered me support and helped me relax into a pose. I think what most struck me about my interaction with Kathryn was her smile and laughter as she saw me let go of what I was fighting. She has a sense of approachability, realness and ease and those qualities helped show me that taking myself a lot less seriously in a situation that challenged me could actually bring me joy.
This year, Kathryn relocated from Florida to Charleston, South Carolina and I had a chance to connect with her recently on life and what she loves about living on the coast…
What do the words salt & water mean to you?
It immediately makes me think of healing. I do a salt soak almost every night and it brings my body back to life. I also live near the beach and go as often as possible to soak up the negative ions and serenity of the salt water.
What are some of your favorite things about living near the beach?
Instant recharge! My plate is overflowing, and I find myself regularly loosing track of time and working way too much. I've made it law to get my butt to the beach for an hour everyday if the sun is shining just to soak up the rays and recharge in the water. It's a mini vacation for my mind and body.
What/who inspires you?
I have a long list, but to be brief: my students. I'm always blown away by their eagerness to learn and willingness to step outside of their comfort zone. My friends: I have build a powerful tribe of men and women who support me through the thick and thin. We check in on each other regularly making sure to bring the laughter and lightness back in. My family (parents, dogs and husband): They are the acorn in my heart. They make me smile everyday and remind me not to sweat the small stuff.
What do you love about what you do and what do you hope to accomplish with your career?
My goal is to empower people to live big. It breaks my heart when I see people living small in the shadow of others. My job is amazing, because it allows me to share tools with people to make positive change. My desire is to inspire as many people as possible to shine bright and be completely comfortable in their own skin.
What are your favorite things to do with your family?
I love to cook! I'm always trying new recipes and creating my own. My ideal evening is staying in with my husband and chefing it up for him. We share so much love at the dinner table.
You are working on a cookbook? Tell us a little bit about that and your love of food.
It started in high school when my boyfriend's parents taught me how to cook. I then went to college and fed all of my friends. Once I moved to LA, I started teaching chef Giada de Laurentiis and she blew my mind. She taught me so much about cooking, the passion behind food, and how I was capable of creating that kind of beauty and love. Eating, exploring restaurants and cooking-these are my favorite things. My new book, Aim True, is a lifestyle book that will include many recipes meant to nourish and excite the reader. I want people to fall in love with their food instead of fearing or dreading it.
You seem to be really into style & fashion. What inspires you and do you have any special pieces that mean something to you and why?
I spend the majority of my life in work out gear, so I get really excited to style myself when the opportunity arrises! My style is a blend of rocker-boho chic. I love to be girly, but am not afraid to pair a beat-up shirt with heels or funky jewelry with jeans. My engagement ring is my most sentimental piece-it has my great-grandmother's diamond and my husband-mother teamed up to find an amazing setting-a love knot. It makes me smile every time I look at it.
You have traveled around the globe. Where are some of your favorite places to travel and why?
I absolutely loved Greece and New Zealand. I led a retreat in Santorini and it's beauty exceeded my already high expectations. It took my breath away daily with the amazing sunsets, gorgeous water, stunning landscape and amazing food. New Zealand was the most exciting week of my life-we skydived, bungee jumped, went on a speedboat, wine tasted, practiced yoga, and the list goes on. Such a gorgeous and exciting place filled with fantastic people.
How would you say that your spiritual views have influenced you and your life?
Very much so. I grew up religious and yoga made me spiritual. This path continues to evolve, but it drives me daily. I'm lucky to be married to an incredibly spiritual man who only encourages me to learn more. I use my spirituality to keep my ego in check and lower my levels of reactivity. It also helps me to move past pain in a swifter way than I ever could before.
What does Soulful Living mean to you?
Living from the heart and living big. Soulful living is seeing the soul of every situation instead of the easy exterior. It's full of deep belly laughs, compassion and forgiveness.
Where do you see yourself in 5 years?
Incredibly happy! I can't give you a concrete answer, because if I've learned anything-life is unpredictable and amazing. I'll still be living out my dreams and encouraging others to do the same.
What is the best piece of advice you have ever received?
Enjoy being a beginner. There's no rush to be the best, just take it one day at a time, enjoy and do your best.
Do you have a mantra or words of inspiration that you live by?
Aim True. It's what I teach and how I live. It's my ability to own my talents and pursue what makes my heart beat on a daily basis regardless of the expectations of others.
Kathryn Budig's trained and taught in Los Angeles for 8 years under the guidance of Maty Ezraty and now travels the world. Kathryn's playful mixture of challenging classes with her lovable personality is the recipe for a truly inspiring class.
As an avid food lover, she is also passionate about sharing healthy, organic and eco-friendly recipes. Kathryn shares her zest for life, yoga & food as the Women's Health Magazine yoga expert along with her contributor writings for The Huffington Post, Yoga Journal, Gaiam, The Daily Love and MindBodyGreen.
She is sponsered by Under Armour Women. She authored Rodale's The Women's Health Big Book of Yoga and is currently writing her second book, Aim True.
Kathryn is dedicated to giving back to her community. She co-founded "Poses for Paws", an organization dedicated to raising money for animal shelters through yoga. You can practice with Kathryn around the globe or save yourself the plane ticket by practicing with her weekly online at Yogaglo.com or through her Gaiam DVD, "Aim True Yoga".
Click here for to read the full feature on SaltandWater.org.
Posted on: December 12, 2014