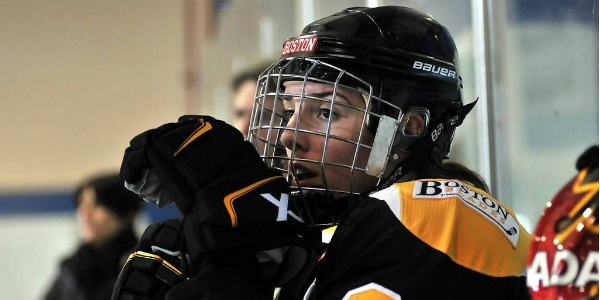 Game-day Routines Crucial for Boston-area Sports Figures
Hilary Knight was recently featured in an article in the Boston Globe which detailed the game-day routines for pro-athletes in the Boston area.  As you'll see, sometimes simply being flexible schedule-wise is a routine in and of itself, particularly when you're passionate about promoting women in sports, as Hilary is.
Game-day Routines Crucial for Boston-area Sports Figures
By Shira Springer, BostonGlobe.com
Before driving to TD Garden, Bruins forward Milan Lucic downs a double espresso. Patriots safety Devin McCourty takes in two bags of IV fluid as soon as he arrives at Gillette Stadium, hoping to remain hydrated and cramp-free for four quarters. Celtics forward Gerald Wallace relaxes with video games. Revolution defender Chris Tierney follows breakfast with walks around his Charlestown neighborhood, getting his legs moving early.
The game-day checklists of Boston's pro athletes vary widely, and are as crucial to the mind as they are to the body.
Establishing a routine is, as Revolution coach and former player Jay Heaps said, "a very personal process." It's often a combination of trial and error, plus advice from teammates and information relayed by trainers and coaches. Or, in the case of Patriots special teams captain Matthew Slater, words of wisdom from a Hall of Fame father, Jackie Slater.
When done right, daily routines bring order and consistency to hectic, high-pressure jobs. They decrease pregame anxiety and increase focus. They help athletes prevent injuries and perform at a high level.
"You're not going to be a consistent performer without consistency to your daily routine," said Red Sox manager John Farrell. "Through consistency, you gain confidence."
So athletes and coaches need to figure out what works best, what puts them mentally and physically in the right position. For some, that means a rigid adherence to a routine. Others take a more flexible approach.
The 12 pro athletes and coaches interviewed for this story spanned the range, from flexible (Lucic, Slater, Bruins goalie Tuukka Rask, Celtics center Kelly Olynyk, Blades forward Hilary Knight), to "more relaxed about it later in my career" (Wallace), to "not too rigid" (McCourty), to "depends on the day" (Heaps), to "striving for consistency" (Farrell), to "rigid, but working on becoming more flexible" (Cannons midfielder Paul Rabil), to strict (Tierney, marathoner Shalane Flanagan).
Where they fell seemed related more to individual personalities than individual sports. Lucic, for instance, said he is "really good at killing time with talking," which is one reason he is flexible with his routine.
"If one thing can throw you off, and it throws you off mentally, then it's not a good thing," said Lucic. "That's why I don't like to call things 'superstitions.' That's why I like to call them 'routines.'
"If it becomes a superstition, you can overthink things. You think, 'Oh, OK, I played bad because of this.' Where that has nothing to do with it at all."
Pro hockey player and two-time Olympian Knight stays flexible because she never knows when an opportunity to promote the women's game might arise. For her, that's as much of a job as playing for the Blades.
"There might be a great opportunity to promote your sport in Arizona," Knight said. "You go to Arizona, you fulfill your obligation, and you come back as quickly as possible and pretend like you're 100 percent rested for the game. You hop on the ice and try to make the best of the situation.
"We don't have the structure [of a men's pro sport] because we don't have the means to afford a structure."
Tierney, who honed his approach over seven seasons in Major League Soccer, is somewhat superstitious. He said it "doesn't feel like a proper game day" when he gets out of his routine. Unexpected changes make him think "maybe I didn't prepare as well as I could have." So he tries to do everything exactly the same.
Don't skimp on sleep
All of the athletes agreed that sleep, hydration, and specific meals and meal times should be parts of any daily routine.
In a recent Sports Illustrated article about Tom Brady's thoroughly planned daily schedule, rest and nutrition were key elements. He has a 9 p.m. bedtime and a summertime diet that's mostly raw food. He does brain exercises, and makes time for workouts and naps on vacation.
All professional athletes contend with frequent travel, varying game times, and post-competition adrenaline, aspects of the job that can make it difficult to stick with routines. Some find naps a necessity, some don't. But too much nap time can make for a groggy athlete.
"I try to keep it not more than two hours ever,'' Rask said. "I feel like it's tough to wake up after that. When you start dreaming and stuff, it's tough to get yourself going again."
Even tougher can be getting to sleep after a game. Long after they finish playing, adrenaline keeps athletes awake.
With 1 p.m. lacrosse games in college, Rabil stayed on a regular sleep cycle. Now, it might be 2 or 3 a.m. before the game-time adrenaline wears off.
In the NHL, where games can go into overtime — and playoff games can stretch well into the night— Lucic said, "Sometimes you're really wound up until 3:30 or 4 o'clock in the morning."
Heaps, the Revolution coach, said, "Win, lose, or draw, it's tough to decompress after a game." So he reviews film of that night's match until around 2:30 a.m.
Late nights — or, technically, very early mornings — don't bother Wallace. The Celtics forward often goes to bed between 1 and 4 a.m. the night before games. "My nap is usually longer than everybody else, so I kind of make up for it," he said.
And after a game, Wallace will go to bed between 3 and 4 a.m., typically winding down while playing video games and watching movies.
Flanagan, the marathon runner, works out twice a day during the most intense segments of her training. That leaves little time or energy for anything else besides sleeping and eating. She wakes up at 6 a.m., naps in the afternoon for about two hours, and heads to bed around 8 p.m.
"I'm usually crawling into bed between 8 and 9 p.m. and usually asleep by 9:30 p.m.," said the runner, who grew up in Marblehead. "It's 'Groundhog Day,' over and over."
Food for thought
Athletes pay careful attention to what they eat and drink, and when they do both. They hydrate throughout game days with water, sports drinks, protein shakes, and, in the case of McCourty and Slater, with IV fluids.
But when it comes to breakfast for a 1 p.m. game, the two Patriots take different approaches. Slater goes light with oatmeal and eggs and arrives early to the stadium, about 3½ hours before kickoff, because "it's important not to have to rush, be able to take my time and continue the mental preparation."
McCourty goes heavier with French toast, eggs, and bacon, because he doesn't like to eat between breakfast and kickoff. He arrives at the stadium shortly after Slater.
After night games, players find themselves downing sizable meals around 10:30 or even later. Lucic will have some protein (steak, chicken, salmon) with pasta and rice around 11:15. Olynyk will have something to eat right after a game, then more when he gets home from a Celtics game around 11:15 "because you don't eat as much as you need right after the game."
With the wear and tear of a season, days off are crucial.
"The biggest reason for the days off is to get your mind off of things," said Lucic. "I play hockey, a dentist does what he does. If he's thinking about teeth all day long, he can go crazy.
"Just like us with hockey. If you're thinking hockey, hockey, hockey all day long, you can go crazy as well."
Posted on: December 29, 2014