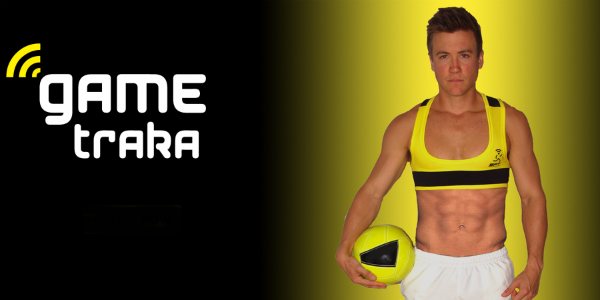 CES: GameTraka First Look
 by David Wiers
The term "knowledge is power" is as important in today's world of sports as it was when first written down in the Leviathan. Tracking devices are already widely used by professional teams, however never before has a GPS device been open to the public like GameTraka. With the new GameTraka GPS device and accompanying software, any person can arm themselves with a wide assortment of useful on-field analytics. The Australian-made device measures the basics such as distance ran and top speed, as well as giving an intensity rating and acceleration.
The device itself is very small, about the size of a box of matches and measures your position five times per second.
Specifically, the dimensions of the GPS unit is 62mm x 38mm x 8mm and comes in at 22 grams. Given the nature of many sports, collisions are inevitable and rather than have wear a device on the hip or wrist, GameTraka is held in place by a lightweight vest with the sensor placed in the back. The vest easily fits under any jersey or uniform and is specifically designed to fit the unit safely and comfortably.
The company's mantra is "wearable, shareable and comparable" and as great as the vest and sensor system is, where GameTraka truly shines is the sharing and comparing department. After the game, the sensor sends the data to the software side of things for the full breakdown. Connecting via Bluetooth to an iOS device or computer, the GameTraka software is where the leg work is done. The previously mentioned intensity rating is an estimation of how hard the wearer worked. For example, on a soccer field, a striker may have ran only two-thirds the distance of a midfielder, but at a higher intensity.
By comparing players to each other as well as well from one game to the next, a coach can clearly see who is running the farthest, the fastest and the hardest. From a training perspective, the system removes any subjectivity and guesswork by allowing coaches to see just how well a player is progressing if coming back from an injury. Individual players can compare data by chronological order and take note of any trends that may present themselves.
The price of knowledge from the GameTraka is $299.99 per unit, though according to the official site there are group discounts available. From a basketball coach seeing who truly hustles on defense to a soccer manager attempting to find the fastest in-game striker or winger to a rec league player who just wants to quantify as much about themselves as possible, GameTraka is the ideal unit for gathering on-field information.
Posted on: January 9, 2015