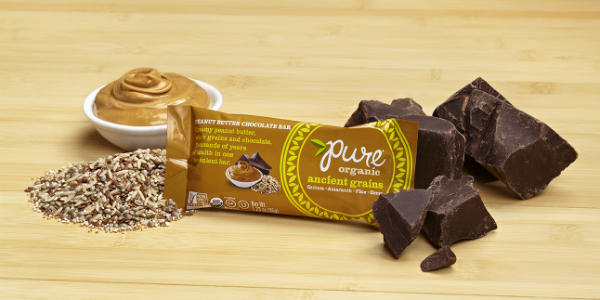 Pure Bars // Organic, Gluten Free, Vegan
I was recently introduced to Pure, a line of healthy and nutritious snacks that use simple, wholesome, real ingredients to help make it easier for everyone to live a healthier life.
Founder, Veronica Bosgraaf believes that better eating translates to better living. Pure's line includes the Ancient Grain bars, Organic fruit + nut bars, and Fruit Snacks/Fruit Sandwiches. As with all Pure products, these delicious bars are certified organic, gluten free, soy free, non-GMO verified, vegan and kosher, and will satisfy your sweet tooth, while providing balanced nutrition for your body.
These aren't your average wrapped snack bars. Mouth-watering Pure Bars boast ingredients like antioxidant-loaded fruits and heart-healthy nuts. Pure Organic bars use only certified organic ingredients. Pure Bars have between 3-5 grams of fiber and 5-7 grams of protein, making them a wise weapon in the fight against munchies.
Whole ingredients that are full of fiber, protein, antioxidants, and omega-3's. From outdoor adventures, skiing, hiking, biking and more!, to cramming for brain-straining exams, Pure Bars have the fuel to get you through your day. Pure bars provide, delicious, wholesome ingredients that you can take with you while hitting the slopes or simply commuting to your nine-to-five. A simple little thing like snacking healthier can make you stronger and happier. Everyone needs an extra boost of energy to power through and be at their best, whether they're tackling something minuscule or epic. Pure has provided that oomph, and all you have to do is eat it.
Organic Ancient Grains Pure Bars
Right away the Ancient Grains Pure Bars captured my attention with their much lower sugar content. As many of you know I avoid refined sugar and try to not to eat anything with more than 8g of sugar per serving. Each bar has just 6 to 8 grams of sugars, but still packs in 5 grams of protein, 2 grams of fiber, and 9 grams of "healthy" fats. It's so hard to find healthy low sugar bars these days, so it is nice to add another brand to my repertoire.
As for the texture, the Ancient Grains Pure Bars are firm, granola bar-like, and not date-based like the others, making the bars harder and dryer, but still chewy and crispy at the same time. Each bar is made with a blend of quinoa, crispy brown rice, amaranth, flax seeds, and hemp seeds, and they are lightly sweetened with a mix of tapioca syrup, agave nectar, and cane sugar.
Ancient Grains Pure Bars are available in 3 flavors: Peanut Butter Chocolate, Chocolate Chunk Nut, and Triple Berry Nut.
My favorite is the Chocolate Chunk Nut. It is sweet, but not overly sweet, with a generous amount of almond and walnut pieces, giving it a slightly crunchy texture. It's indulgent but without the extra calories and sugar you would expect from a chocolate flavored bar.
Organic Fruit & Nut Pure Bars
I also tried the Fruit & Nut Bars
. Unlike the Ancient Grain Bars, these bars are date-based bars and a bit sweeter with 14-20 grams of sugar per bar. Dates are natural sweet, and the addition of fruit, avage and/or tapioca syrup make them even sweeter. I would be perfectly fine if they removed the extra sweetener.
Nonetheless, I did enjoy these bars as a dessert replacement.
Flavors:
Apple Cinnamon
Banana Coconut
Cashew Coconut
Cherry Cashew
Cranberry Orange
Chocolate Brownie
Dark Chocolate Berry
Wild Blueberry
The Cashew Coconut was delicious! It was creamy from the cashews and coconut, rich and thoroughly enjoyable.
Unlike some other bars on the market, all Pure Bars are Certified Organic, which means between 95% and 100% of the ingredients are organic. Using organic fruit and nuts means that all the ingredients are free of pesticides and herbicides. Buying organic also keeps the planet cleaner, so your tummy and taste buds aren't the only beneficiaries.
Although Pure Bars are certified gluten-free, the facility where the bars are processed is not wheat-free, but contamination is virtually impossible given the measure of cleanliness required by organic standards.
You can find Pure Bars at grocery stores and health food stores nationwide, or online
. In NYC, you can find them at Oren, Westerly Health Foods, Whole Foods Market, Health Nuts, Trader Joe's and more than a dozen other locations. To find a retail location near you, click here.
Veronica is releasing her first vegetarian cookbook, Pure Food , on February 17, 2015. We can provide you with some great vegan recipes such as Pesto Tortilla Pizza, Jicama with Roasted Red Pepper Hummus and Dulse, Vegetable Curry, and more. You can pre-order Veronica's book on Amazon 
for $14.87. (If the price increases overtime you will be locked into this price.)
Posted on: January 12, 2015