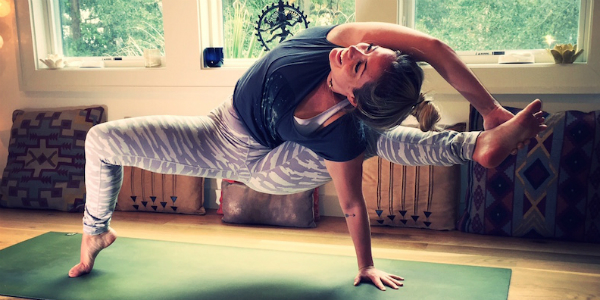 Just OM'ing It and Aiming True
Kathryn Budig is lovely. Wonderfully lovely. She embodies all the characteristics of what I believe it is to "OM" it. In fact her motto, Aim True, is like the beautiful sister that Just OM It looks up to and hopes to be like and borrow her clothes and stuff. You with me? Anyway, Kathryn is pretty kick ass and incredibly inspiring. She is an international and celebrated yoga teacher, an Under Armour sponsored athlete, the spokeswoman for Toe Sox, an author (The Women's Health Big Book of Yoga), she has her own non-profit organization (Poses For Paws), is a contributing writer for Yoga Journal, Huffington Post, Elephant Journal, Woman's Health Magazine, AND was named one of Greatist.com's 100 most influential people in health and fitness. If you are in the yoga community, you know Kathryn Budig. I was very excited to have the opportunity to sit down with her and see how she does all that she does! Here are some highlights from our Skype interview a couple of months ago.
Kathryn's secrets to success and getting it all done:
Taking it day by day and also making sure that I keep time for play. I have to make sure that I have a balanced lifestyle… sweating everyday, whether it's practicing [yoga] or getting outside with my dogs, or doing a workout. Sleep is crucial. It's a healthy balance.
What Aim True is all about:
Basically it's my motto and it's, in a nutshell, the ability to find out what makes you amazing, what your innate talents are, what makes you shine and get out there, and realizing that not everybody is going to agree with you and that's ok and to keep dancing onward. When you have this mentality, that's how you hit your mark.
Kathryn's food and diet philosophy:
I believe that everyone is wired incredibly differently and we have very unique needs. I totally believe in healthy eating but I'm a huge foodie as well. So for me, it's been an experiment in, how can I find balance in life… how can I cook food that is nourishing, delicious, and amazing? At the end of the day it's about being a conscious consumer. Whether you're a fruitarian or a hard core carnivore, just be very conscious of where your food comes from and how often you're having it. It comes back to awareness at the end of the day.
Under Armour | I will what I want
They're [Under Armour] so cool. Our first meeting they talked about how they wanted women to feel and how they wanted to empower them. They have this new campaign called "I Will What I Want". It's basically insinuating that will is stronger than destiny. I think it's so incredible to see these women in the fitness world uniting together and showing other women [how to] be strong.
What's ahead for Kathryn:
I'm a firm believer in always evolving and always changing. Even my new book is focused on lifestyle and not just yoga. I want to keep pursuing what I'm excited about. I love yoga and it will always be a part of my life but I can't say that I'll necessarily be doing what I'm doing right now forever. I hope that's not the case because that would become boring.
Posted on: January 16, 2015