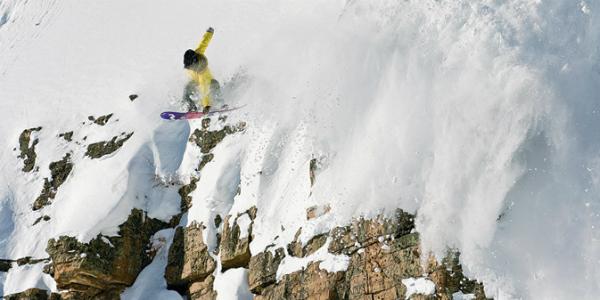 Cuppa & Chat with Gretchen Bleiler, Olympian, Environmentalist & Entrepreneur
We caught up with double Olympian, X Games gold medallist and World Cup champ Gretchen Bleiler to discuss climate change, meditation and her new venture…
By Madeleine Lewis, Virgin Unite Storyteller
Where did your Olympic career begin?
Most kids have a strong drive to be something – an astronaut, a doctor, a firefighter. I always wanted to be an Olympian! As a kid I played soccer, tennis, golf and swam – and because I have three brothers, two older, I've always been competitive, to keep up with whatever they were doing. When I was ten we moved from Ohio to Aspen, Colorado, and I tried snowboarding for the first time when I was 11.
At the time, snowboarding wasn't even considered a sport. I loved that about it – it was fresh and creative and people were making it up as they went along. It wasn't just about getting down the mountain, it was about how you got down and what you were wearing; it was a whole culture and vibe. I fell in love with it and one day a kid from the Aspen Valley Snowboard Club suggested I join the team and the next season I started competing.
What's your biggest challenge been as a snowboarder?
In 1998 I discovered that snowboarding was going to be an Olympic sport and I knew in my heart this was what I wanted to do. I took a leap of faith – even though I'd always been a hard working student, I decided against going to college and became a pro snowboarder. The first year I competed on my own and had to pay for everything but the next I was invited onto the US snowboarding team. Then everything was funded and I got to travel around the world.
I missed out on competing at the 2002 Winter Olympics in Salt Lake City – I was just beaten to it by my best friend. I was devastated but it became a pivotal moment in my life because it changed my perspective. I had let the qualifiers become so important to me that I'd lost the love and passion for what I was doing. I had focused on the bottom line rather than going from a place of inspiration and creativity. I vowed then to never let myself get in my own way again – my commitment to myself was to enjoy every day and the journey would be enough.
That shift was very powerful. In 2003 I won every single event I competed in, and then won a silver medal in the half-pipe at the 2006 Olympics.
Where did your interest in the environment begin?
I feel very lucky because I've spent my whole life outdoors and being active –I get my sense of connection, adventure and purpose in the mountains. I think we're part of nature, not apart from it, but many of us have forgotten our connection to it and to each other.
As a snowboarder, I've been seeing the effects of climate change for some time. Aspen is a mountain community, so our economy and our jobs revolve around winter, snow and tourism. So when we have a bad snow year it trickles down into the community.
I started working with Protect Our Winters (POW) in 2009, which mobilises the collective power of the global winter sports community to fight against climate change. We go to Capitol Hill every year to talk to Senators and Congress and tell the stories of change we're seeing. It's not just about our lifestyles, but also how it's affecting our jobs and our economies – winter tourism generates $12.2 billion annually, supports 212,000 jobs and $7 billion in salaries.
We've just had the X Games here in Aspen and EPA Administrator Gina McCarthy came to meet the community, athletes and visitors and call for action. I've just retired from halfpipe competition, and this matters to me more than ever.
You're an entrepreneur as well – can you tell us a little about what you're working on?
My husband also used to be a pro-snowboarder, that's how we met. We were used to using reusable water bottles, but although they're meant to cut down on waste, we ended up with we've got so many of them! One day my husband was trying to clean them all and got really frustrated because not only was it time consuming, but even if you really try, you can't get them clean. So he told his mum and she said, 'That's a great business idea, why what don't you do something about it?!'
So we've designed a water bottle that opens in the middle. You can clean it properly and add things like lemons and use it for other things – a sunglasses case, an impromptu speaker, or to hide a beer bottle! And it's customisable and it compacts to half its size for easy travel and storage. The idea is to make sustainability more creative and simple.
Over the last four years we've been through a real process – we've started a company, designed, tested, redesigned, ran into manufacturing issues, taken a step back, refocused our attention…! At one point we tried to partner with another company for financial reasons, but we realised that we would have to sacrifice some of our quality and sustainability vision, so ended up taking the tough decision to walk away.
Then at the end of last year we ran a Kickstarter campaign and raised over $180,000! We're getting the final product in June and we'll start selling through our website. There's also a charity component where we will give back to protecting our winters and also to clean water initiatives.
I'm glad we didn't know how hard it would be, because I don't think we would have started if we had! But it's important to remember that if you're following your heart you can't fail, because the journey is taking you to what you need to learn.
Meditation is a big part of your life too – how did that begin and how does it help you?
I was introduced to meditation in 2009. At the time, I was living a very happy and successful life, yet I was so busy, I was feeling drained and like something was missing. As I consistently brought meditation into my life, I continued to do everything I had been doing, but now I was able to do everything from a place of being relaxed and centered. When you feel this way, you are so much more efficient and focused and everything feels like it's done with so much more ease.  And because I was already doing what I loved, it just brought back the meaning and purpose in my life.
I love it because not everyone can get on a snowboard and get on a mountain, but everyone can meditate and be in stillness, go back to their essential selves and get that feeling of wholeness. It can shift your whole perspective. I just received my teacher's certification in meditation this past April and was also invited to speak at Deepak Chopra's Sages and Scientists Symposium last year.
Where's your favourite place in the world?
I'm lucky to have travelled around the world and seen some of the most beautiful places on earth, but I still live in Aspen because it's very special to me. It's such an interesting community – people who have climbed Everest, celebrities, authors, thought leaders, ski bums… it's very cultured. Every single type of person lives here in this small town, but we are all connected in our love for what the mountains bring to our lives.
Posted on: February 13, 2015