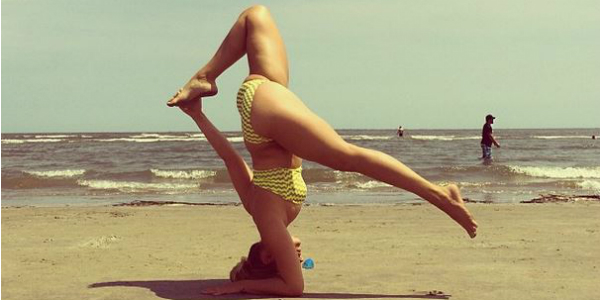 The 100 Most Influential People in Health and Fitness: Kathryn Budig
There are thousands of people working every day to revolutionize the way people think about health, fitness, and happiness, and every year we recognize those making the biggest impacts (for both good and not-so-good reasons). Last year the focus seemed to be on changing American's diets (and the never-ending attempt to reduce our consumption of sugar and processed foods), building a strong booty, and reducing stress so we can be happier and more productive.
When trying to determine the most powerful innovators in this space, we looked at several quantifiable factors for each candidate: social reach, research they've contributed to, professional certifications and degrees they've attained, trends they've set, products they've created, and media coverage, among a few other things. (You can check out the details on our metrics below the list.) After many discussions (and way too much math), here are the 100 people we determined to be the most influential figures in fitness, health, and happiness this year. While we may not always agree with everyone's approach, we can always respect any effort to help make healthy living a little bit easier.
42. Kathryn Budig
Body-Positive Bender
You may have seen Kathryn Budig on the cover of Yoga Journal's "body issue" last year or striking a pose in the virtual classes she conducts atYogaGlo.com. Budig not only writes, speaks, teaches, and puts out books (her newest, Aim True, is set for this year) and DVDs, she's also co-founder of Poses for Paws, an organization that raises money, through yoga, for animal shelters. She's not shy about discussing her past body issues, and when not on her yoga mat, she's cooking eco-friendly meals and blogging about them on her website.
Posted on: February 18, 2015