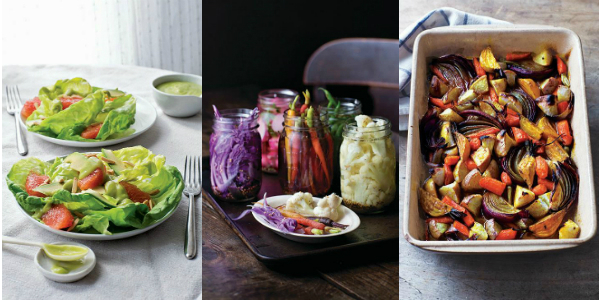 Pure Food Recipes to Warm You from the Inside
Molly Shea, Assistant Editor, Y! Health
February 18, 2015
When Veronica Bosgraaf created organic snack company Pure Bar nine years ago, she had a simple motive: To make healthy, delicious food for her newly vegetarian daughter. Her simple-is-best strategy worked so well that she applied it to her new cookbook, Pure Food, which is full of seasonal, plant-based recipes that healthify comforting favorites. "I tried to have a lot of recipes that would appeal to everybody," Veronica tells Yahoo Health. "I wanted anyone to be able to go out and make these recipes and find these ingredients." The best part? "Most of the meals in this book take fewer than 30 minutes to make," Veronica says. Check out three of her favorites, below.
Pickled Vegetables
I know you don't have hours to spend in the kitchen, but fear not! Pickling your own vegetables takes 10 minutes to prepare, saves money, and is a perfect solution when you need an extra side dish or appetizer for a party. Another bonus is that pickled vegetables are actually better for you than raw because the healthy bacteria that are created add more probiotics and vitamins. My good friend Chef Ernest Miller, a Master Food Preserver from The Farmer's Kitchen in Los Angeles, turned me on to the ease and health benefits of pickled foods, which are essentially fermented. I learned this recipe from him. You can experiment with all sorts of vegetables, from peppers to green beans, and try changing up the spices, too!
Ingredients
1 1⁄2 pounds chopped cabbage, green beans, or vegetable
of your choice
1⁄2 teaspoons caraway seeds
1 1⁄2 teaspoons mustard seeds
1 teaspoon celery seeds
3 tablespoons sea salt
Preparation
1. In a large bowl, toss together the cabbage, caraway seeds, mustard seeds, celery seeds, and 1 tablespoon of the salt. Stuff the mixture into a mason jar with a lid.
2. In the same bowl, combine 4 cups of water and the remaining 2 tablespoons salt. Pour the brine over the cabbage. Use a smaller jar as a weight to keep the
cabbage submerged. Loosely place the lid on the jar to allow the air to flow and put the jar in a warm place out of the sun (70°F to 80°F is optimal fermentation temperature; less than that will slow fermentation). Let sit for about 2 weeks.
3. After 2 weeks the pickled vegetables should be ready. If you prefer a more sour taste, let them sit longer.
Roasted Root Vegetables with Honey Sauce
One Saturday morning, I woke up and realized that I had forgotten that we had a family gathering at my mom's house and I was responsible for bringing vegetables. I had only two hours before we had to leave! I opened the refrigerator and saw some carrots, a few turnips, and a couple of yellow beets. BecauseI always have onions, I decided to gather them along with the rest of the motley crew, chop them all up, and roast them until nice and caramelized. While the veggies were in the oven, I created a simple sauce to serve with them.The recipe ended up being a big hit. Who knew?
Ingredients
2 medium turnips, peeled and chopped
2 medium yellow beets, peeled and chopped
4 medium carrots, chopped
2 medium onions, chopped
1 tablespoon grapeseed oil
1 teaspoon sea salt
2 tablespoons (1⁄4 stick) unsalted butter or vegan
buttery spread
2 tablespoons honey
Juice of 1 small lemon
1⁄2 teaspoon turmeric
1⁄2 teaspoon ground cinnamon
Preparation
1. Preheat the oven to 375°F.
2. In a large bowl, toss together the turnips, beets, carrots, onions, oil, and salt. Spread the vegetables out in a 9 × 13-inch glass baking dish.
3. Roast, stirring occasionally, until the vegetables are tender, about 45 minutes. Remove the dish from the oven.
4. In a small saucepan set over low heat, combine the butter and honey, stirring until melted. Remove the pan from the heat and stir in the lemon juice, turmeric,
and cinnamon. Pour the sauce over the vegetables and toss to coat. Cover the baking dish with foil. Put the dish into the still-warm oven for 15 minutes.
5. Serve hot.
Bibb Lettuce with Grapefruit, Avocado, and Creamy Avocado Dressing
I often eat a whole avocado in one sitting. I had a friend once tell me that I had better slow down or I would put on weight, but I never did slow down or put on weight. You see, my theory is that when you eat nutrient dense, whole foods, you are giving your body what it needs and it will stay full and satisfied longer. You end up eating less. On the other hand, when we eat empty calories, we can't stop because our bodies are still craving nutrients. I think it is very difficult if not impossible to become overweight on a plant based whole food diet, so keep eating those avocados!
Ingredients
1 1⁄2 pounds chopped cabbage, green beans, or vegetable of your choice
1 1⁄2 teaspoons caraway seeds
1 head Bibb lettuce
1 pink grapefruit, peeled and sectioned
1 medium avocado, peeled, pitted, and sliced 1⁄2 cup
slivered almonds
Creamy Avocado Dressing (recipe follows)
Preparation
1. Carefully remove the core of the lettuce, keeping the head intact. Rinse well, and then remove the leaves one at a time and lay them in a serving bowl.
2. Top the lettuce with the grapefruit, avocado, and almonds, and toss gently to combine. Top with the dressing and serve.
Creamy avocado dressing (makes 1 cup)
Ingredients
1⁄2 cup grapeseed or olive oil
1 tablespoon honey
1 garlic clove
1 medium avocado, peeled, pitted, and chopped
Juice of 1 lime
1⁄4 cup fresh orange juice
Sea salt and freshly ground
black pepper
Preparation
In a blender, combine the oil, honey, garlic, avocado, and lime and orange juices, and season with salt and pepper. Puree until smooth. The dressing will keep in an airtight container in the refrigerator for up to 3 days.
Posted on: February 19, 2015