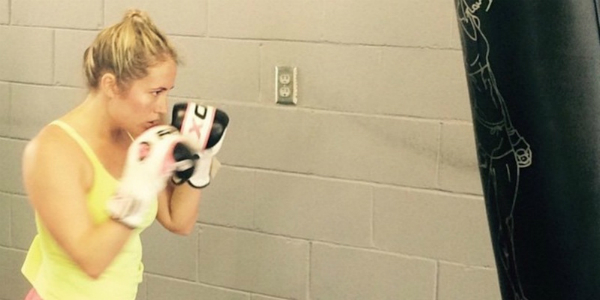 Kathryn Budig's UFC–Inspired Shoulder Opener
By, Kathryn Budig, March 4, 2015
UFC reminds Kathryn Budig of what else? Yoga. One of her favorite and most rewarding chest and shoulder openers bears a striking resemblance to Ronda Rousey's signature "straight armbar" move.
I'm a yogi at heart—with a wandering eye. I'm a creature that craves change. My yoga practice is my constant, supplemented by other physical outlets that keep me stimulated. One of my favorite non-yoga activities is boxing and mixed martial arts. It's a rhythmic dance of power, agility, cat-like awareness and pure adrenaline.
"I don't want little girls to have the same ambitions as me, but I want them to know that it's okay to be ambitious. I don't want them to say the same things that I do, but I want them to know it's okay to say whatever is on their mind." —Ronda Rousey
I've been following the women fighters in the UFC and just watched the world's best female fighter defend her title. Ronda Rousey is renowned for her "straight armbar" move, that makes her opponents tap out within seconds (her last fight lasted a whopping 14). Her famous move humorously reminded me of one of my favorite yoga shoulder openers. It's a contorted version of Prasarita Padottanasana in the upper body and a Bridge prep in the base. The pose is full of twists, turns, and ultimately doesn't look all that appealing, but trust me—it's one of the most rewarding chest openers in my repertoire. Let's just hope Ronda won't be assisting the pose anytime soon.
On a serious note, I deeply admire women going after their dreams and inspiring others to do the same. Kudos to Ronda and every woman out there pursuing their passions regardless of the many bumps in the road on the path to our goals.
Click here to see the full article, with photos. 
Posted on: March 4, 2015