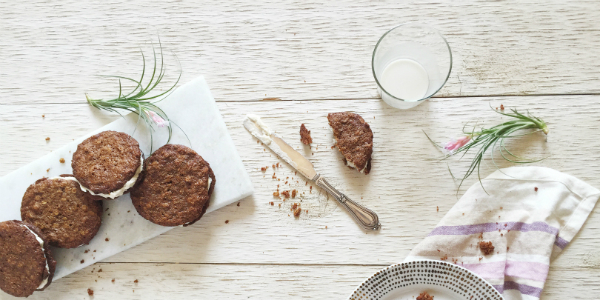 Oatmeal Creme Pies Get A Healthy, Gluten-Free Makeover
By Kathryn Budig, March 9, 2015
Yoga star Kathryn Budig is known for her ability to make yoga accessible and playful through her teaching and writings, but her skills extend beyond the yoga mat – all the way to the kitchen. Below, she shares her recipe for oatmeal creme pies.
Little Debbie, I gotta hand it to you – you truly know how to pack the joy. There's nothing like seeing that long, narrow box of oatmeal creme pies stuffed full of individually wrapped bundles of happiness. Obviously, these cookie were a major childhood favorite of mine, but as I've grown and cut back on sugar and processed food, my affinity toward them has waned. I was hanging out with Cynthia Groseclose – my dear friend, food stylist and creator of Salt & Water Magazine – daydreaming about making a "healthy" version of the classic creme pie. We both pride ourselves on our cooking skills (she's a bonafide chef trained at Paris' Le Cordon Bleu) but don't know much about the baking world. We decided to attempt a healthier gluten-free version. We went full throttle and spent most of our Saturday texting back and forth on successes and what flour choices totally bombed. After plenty of trial and error on our parts, Cynthia came in for the win with a killer recipe for these cookies. We went with this icing recipe below, as it reminded us the most of the original cookie, but I've listed three different options so you can play around. Either way, we think you're gonna love these little circles of happiness and joy. I must confess, I've been eating one as I write this and it's only 9 a.m. Sorry-not-sorry.
K+C's Oatmeal Creme Pies
For cookies:
2 sticks unsalted butter, room temperature
3 cups finely ground almond flour
2 cups rolled oats
1/2 cup raw cane sugar
1 cup dark brown sugar
1 t baking soda
1/4 cup molasses
2 eggs, room temperature
1/4 t fine sea salt
For creme filling :
2 cups organic all vegetable shortening
1/2 t vanilla extract
4 T powdered sugar
***A few other options to try***
8 oz vegan cream cheese
1/2 t vanilla extract
4 T powdered sugar
or
2 cups coconut oil
1/2 t vanilla extract
4 T powdered sugar
For powdered sugar:
1.5 cups raw cane sugar
2 T arrowroot
*Please use organic ingredients whenever you have the option*
Preheat oven to 350°F.
Place powdered sugar ingredients into a high-speed blender and combine until it looks like fresh powder. Set aside.
In a separate bowl, add vanilla to shortening (or coconut oil/vegan cream cheese) and slowly whisk in all of the powdered sugar. Set aside.
Cream your butter in a stand mixer, add brown and cane sugar, and continue to mix on low. Incorporate your eggs then stir in vanilla and molasses.
In a separate bowl, combine all of your dry cookie ingredients except for the oats. Keeping your stand mixer on low, slowly add all of your dry ingredients until fully blended. Fold in your oats with a spatula.
Line a baking sheet with parchment paper. Lightly spray with coconut oil. Roll your dough into golf ball size pieces and place 6 onto your sheet evenly spaced. Bake for 10-12 mins at a time until all of your cookies are done and cooled. Spread roughly 2 T of icing on the inside of one cookie then complete by smushing another cookie on top. Most likely eat as you go!
Kathryn Budig is a yoga teacher, author, and the founder of AIM TRUE. Find more healthy recipes on her blog.
Posted on: March 10, 2015