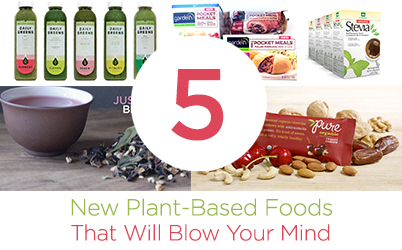 5 New Plant-Based Foods That Will Blow Your Mind
The job of food testing is one we all fight for here at GGA HQ! As the most delicious and newest plant-based, vegan foods roll out faster than the speed of light- we get to sample, devour, and review for your reading pleasure – which also saves you the trouble of buying products that aren't tasty and don't live up to the hype. Isn't it nice to have a big vegan sister you can count on? Without further ado – this weeks favorites!
We will admit being cynics when it comes to energy bars.  They are expensive, and even the organic healthy ones generally are packed with agave and rice so that it seems like you may as well just eat a cookie! Welcome Pure Organic Bars, probably the best on-the-go bar we've ever had – from pureness of ingredients to taste.  With all organic, non gmo, vegan, soy-free, dairy-fre, gluten free, kosher, and clean flavors that actually taste great – we loved the Apple Cinnamon, Banana Coconut, Cashew Coconut, Cherry Cashew, Chocolate Brownie, Cranberry Orange, Dark Chocolate Berry and Wild Blueberry flavors. They are just sweetened with natural fruit, no junk or extra sweeteners, and are packed with protein, antioxidants, and flavor. You'll want to trust us and buy a few boxes to stash in your office drawer, glove compartment, and pocket book for when snack attacks hit. Mama Bonus: We found these to be life-savers during pregnancy nausea in the first trimester when eating anything other than simply carbs was repugnant, these helped us get our fiber and crucial protein in those important first few weeks of baby growing!
Read the rest of the story here.
Posted on: March 16, 2015