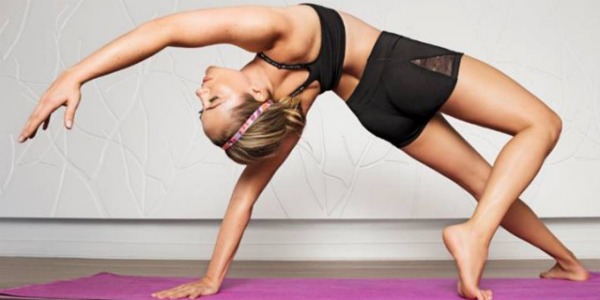 Kathryn Budig to Headline Pre-Bridge Run Yogapop Event
By David Quick, March 25, 2015
Kathryn Budig, an internationally known yoga teacher, writer and food blogger, will lead the yoga segment of Yogapop, an event that kicks off the Cooper River Bridge Run weekend with yoga, live music, local crafts and food.
Budig, a 32-year-old Kansas native, wrote Rodale's "The Women's Health Big Book of Yoga" and co-founded Pose for Paws, which raises money through yoga events for animal shelters. She is the daughter of Gene Budig, former president of Major League Baseball's American League and part-owner of the Charleston RiverDogs.
Budig served as the brand representative for ToeSox, which featured her in ad campaigns doing yoga poses wearing only the socks, and is currently sponsored by Under Armour Women, keeping company with the likes of ballerina Misty Copeland, skier Lindsay Vonn and supermodel Gisele Bundchen.
Budig was featured on the cover of the October 2014 edition of "Yoga Journal" in the magazine's "Body Issue."
Q: As I understand it, you now call Charleston home. When and why did you move here?
A: My parents have lived on Isle of Palms for over 10 years, so this has felt like home for quite some time. I left my longtime home of Los Angeles to be with my now-husband on the East Coast knowing our goal was Charleston. I think it's one of the most magical cities in the U.S. and that it's important to be close to family.
Q: Over the last decade, the Charleston yoga community has grown and diversified with more than two dozen studios. Based on your experience and travels, does Charleston rival some of the other major yoga hubs in the nation and world?
A: The size of the community and dedication is impressive here. I'm happy to see a wide range of styles and look forward to seeing how this yoga family continues to grow and evolve.
Q: Have you been able to get involved with some of the local studios?
A: I've taught workshops at Charleston Power Yoga and The Yoga House of Charleston, as well as a yoga event at Joe Riley Park. I'll be leading another event for the RiverDogs this summer and continue to look for ways to support the local community.
Q; How did you become involved with Yogapop?
A: Supporting the local is always high in my book. I'm unable to teach a regular class here because of my travel and writing schedule, so I jump on any opportunity I can to be home and share my teaching. Good friends of mine have been involved in past events as well as upcoming. It's always a dream to work closely with those I love in an empowered work environment.
Q: Do you run and have you witnessed more runners embracing yoga?
A: I've tried to run, but I've gotta leave it to the pros – it's not really my thing. That being said, yoga is a perfect balance to running. It's great to prevent injury and bring more flexibility into a runner's life.
Q: Based on recently released surveys, more than 21 million American adults said they had tried yoga in the past year. What do you credit that growth with?
A: The fact that it works. Yoga has amazing physical benefits, but beyond that it reduces stress and elevates the mind. It's rare to find a physical activity that has a mind/body/spirit component, and this combo is something that every single person can benefit from.
Q: With the continued growth of yoga, running, stand-up paddleboarding, CrossFit and more, along with the growth of healthier food chains, do you think we're experiencing a fitness revolution in the United States or is it just a growing subculture?
A: I pray with every ounce of my being that it's a revolution. The world needs to be educated on nutrition choices, fitness and health. It's the key to our survival and keeping generations to come conscious of their health, as well as how our choices affect our environment.
Q: Can we expect to see and hear more about you locally in the coming years?
A: I'll be leading another RiverDogs event soon and plan on doing some kind of event locally around the launch of my new book, "Aim True," which releases January 2016.
Read the full story here at CharlestonScene.com.
Posted on: March 26, 2015