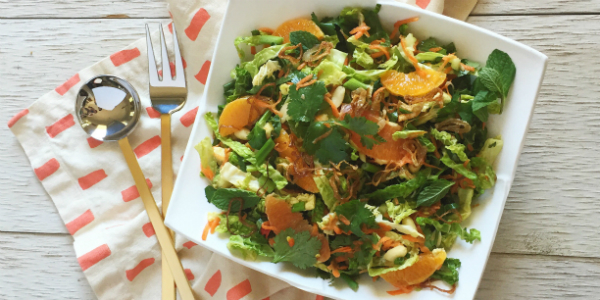 A Healthy, Crunchy Version Of Your Favorite Asian Salad
Yoga star Kathryn Budig is known for her ability to make yoga accessible and playful through her teaching and writings, but her skills extend beyond the yoga mat – all the way to the kitchen.
Lovers of crunchy salads, unite! This Asia-inspired salad is colorful, crunchy, salty, tangy, bright, and creamy. Basically, it's everything I want a salad to be. This is lovely as a side or starter salad. If you're looking to add protein, I recommend a can of wild salmon or a simple piece of grilled wild salmon (I'd just use salt, pepper, and a bit of honey) on top to turn it into an entree. Either way, this salad is guaranteed to make you happily sing nom nom nom!
Salad Ingredients:
1/2 head savoy cabbage, shredded
1 carrot, shredded
6-8 green onions, white and green ends slivered
1 avocado, diced
1/2 cup peanuts
2 blood oranges (or mix of orange citrus), diced
2 large shallots, thinly sliced and fried
1/4 cup fresh mint leaves, torn
1/4 cup fresh basil, torn
1 cup cilantro, rough chopped
1 tin or filet wild salmon, drained or grilled
2 cups vegetable or coconut oil for frying
Sea salt to taste
Dressing Ingredients:
2 limes, juiced
3 tablespoon fish sauce
1 tablespoon toasted sesame oil
2 red bird eye chili peppers, sliced (keep the seeds if you like extra heat)
Whisk together your dressing ingredients and set aside. Then, in a large bowl combine cabbage, carrots, green onions, peanuts, oranges, and fresh herbs.
Place your oil in a small sauce pot over high heat. Add shallots when the oil starts to bubble and watch closely (place a splatter guard over the pot if you have one). They will be in the oil for roughly 5 minutes, or until golden brown (you don't want dark brown, as then you're just dealing with burnt shallots). Remove with a slotted spoon and place on a few paper towels. Dab excess oil off and sprinkle with sea salt.
Add dressing to your large bowl of salad and toss well. Add avocado and fried shallots and give it another gentle toss. Serve in salad bowls as is, or top with protein. Enjoy!
Kathryn Budig is a yoga teacher, author, and the founder of AIM TRUE. Find more healthy recipes on her blog.
Posted on: April 1, 2015