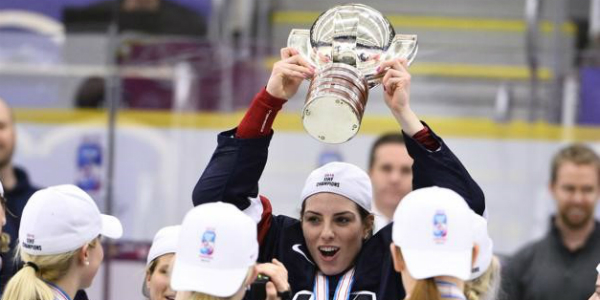 Team USA Woman Win Championship; Knight named MVP & Best Forward
FOR IMMEDIATE RELEASE: Malmo, Sweden – April 4, 2015:
The memory of Sochi fueled the U.S. Women's National Team as they fought off Canada and claimed their fifth International Ice Hockey Federation Women's World Championship in six years, with a 7-5 victory over rival Canada on Saturday in Malmo, Sweden.   Team USA led 4-1 going into the second period but Canada made a comeback in the second, tying the game at five.  In a hard-fought final game, Team USA prevailed, notching two goals for the win.  With 12 goals, this game was the highest scoring gold-medal game in Women's World Championship history.
2x Olympic silver medalist, Hilary Knight, was named the tournament's Most Valuable Player and received the Directorate Award for Best Forward and was named to the tournament's media All-Star team.  Throughout the tournament, Knight led with 7 goals and 5 assists, leading with a total of 12 points.  "It's a huge win. We had the monkey on our back from Sochi and that didn't feel good.  We worked hard all year, played our hearts out and came out with the win – it feels great," says Knight about the win against Canada.  " The feelings associated with playing for one's country and competing alongside amazing teammates is never dull – I am beyond greatful.  The whole tournament was a huge success for our team, we came together as a team and we are so honored to bring home the World Championship back to the US."
Posted on: April 6, 2015