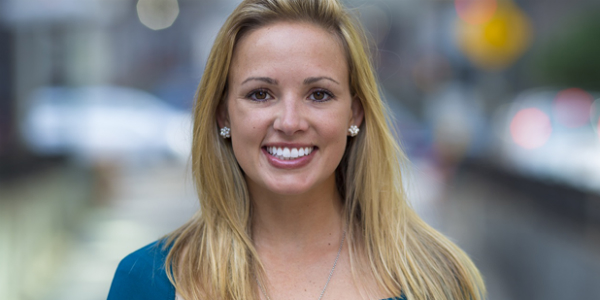 NWHL Opens Door To Paying Women To Play Hockey
By Kristi Patton, April 18, 2015, HockeyNow.ca
When Dani Rylan was a kid, she dreamed about becoming the president of the United States.
She is instead settling as the commissioner of the first professional, paid women's hockey league.
"I figured president wasn't going to be in the cards for me," she joked.
Finding a place where they don't have to pay to play has been no laughing matter for the top women's hockey players in the world. This storyline has been in the spotlight time and time again this year, with Finnish goaltender Noora Raty during the Sochi Olympics asserting that she would have to give up hockey because she could not afford to live, then a weird contract issue for the Boston Blades in the CWHL resulting in forfeited games partway through the season and blue chip players like Hilary Knight sarcastically poking fun at the league by tweeting a graphic comicabout players not meeting ticket quotas mandated by the league.
That is just the tipping point. There is also the plight of Blades Clarkson Cup hero Janine Weber who was left without sticks to go to the world championships with Austria after donating hers to the Hockey Hall of Fame, and Vancouver 2010 Olympic MVP Meghan Agosta-Marciano defaulting on playing this season to get her career going as a police officer.
For Rylan, the lightbulb sparked when she was not able to broker a deal with the CWHL to start a team in New York. The former NCAA player started looking at alternatives and believes she has designed a structure where players don't have to worry about contributing their own money, lose out on paycheques or worry about how to pay for their next stick.
Built on the idea of the National Lacrosse League, Rylan sees the National Women's Hockey League (NWHL) as a viable way to both give women money to play (at least a part-time wage for now) and evolve the game.
"We are ready to market women's hockey like it hasn't been before," explained Rylan. "We are setting ourselves up for growth and development with this business model. We want to convey the passion behind the women's game."
The question remains as to whether or not two women's leagues can coexist and thrive. It is a bit of déjà vu. After years of fragmentation, the original NWHL and Western Women's Hockey League (which included one U.S.-based team in Minnesota) disbanded in 2007. From its ashes, the CWHL was born.
What this means for the future of the CWHL is hard to predict at this time. Brenda Andress, the league commissioner, did not get back to HockeyNow before press deadline to comment. But, Natalie Spooner, one of the most recognizable face in the league (thanks to her performance at the Olympics and in the Amazing Race Canada), says she isn't going anywhere.
"I'm pretty comfortable in Toronto. I think the CWHL has built a great foundation for a paid professional women's hockey league in the future," she said.
This year, the CWHL announced a deal with Sportsnet to broadcast their all-star game and the Clarkson Cup final. They also found partners to help with travel costs and Canadian entrepreneur Arlene Dickinson (CBC Dragon's Den) was named to the board of directors.
The Montreal Stars, Calgary Inferno and Toronto Furies also have support from their NHL counterparts in sharing infrastructure and resources. While the CWHL have consistently said they are working towards the goal of paying their players, a firm outline of just how that will happen has not been unveiled.
More recently, the CWHL announced a multi-year partnership with Canada's dairy farmers and their Fuelling Women Champions program, which will provide financial and promotional support to the CWHL and flagship events. Spooner was chosen, along with other elite Canadian female athletes from different sports, as an ambassador for the champions program, facilitating mentorship opportunities with young girls across the country and supporting the athletes in their competitive efforts.
"Their support will be huge along with the CWHL's other sponsors. The publicity will help get people in the stands and hopefully inspire little girls," said Spooner, who plays with the Toronto Furies. "I always dreamed of playing in the NHL when I was a little girl. Now we have these little girls watching us play in the CWHL and looking up to us. Now it is their dream to play in the CWHL, so it is like I am playing in the NHL of women's hockey and for those little girls to want to be like us is pretty cool."
As a national team member, Spooner does receive a small stipend to help with costs while she continues to train and play. Most of her colleagues do not. Spooner is hoping to raise awareness that more women's sports, not just hockey, need to be on a more equal level with their male counterparts.
"I think so many great women athletes aren't getting recognized. It is crazy how much more sponsorship, viewership the men get. Women should have the same opportunity as men. We train exactly like the guys train, are on the ice the same amount but they have the full-time job and paycheque. We do this because we are passionate about our sport. I love hockey and wouldn't give it up for anything," said Spooner.
Still a paycheque would be nice. That is what Rylan said she is offering to NWHL players. A salary cap for each team will be set at $270,000. Money that Rylan said has been donated by sponsors who wish to remain anonymous at this time. Rylan is keeping her cards close to her chest for now and hasn't revealed many details, such as what the championship trophy will be named, if any of the teams have been bought outright, or who the general managers will be.
Rylan did, however, let it slip that fans who paid attention to women's hockey, including the most recent Olympics, will recognize the names of players who have shown a keen interest on being signed to a contract.
Rosters will be capped at 18 players with the average salary being $18,000, negotiated by the team. The league will consist of the Boston Pride, Buffalo Beauts, Connecticut Whale and New York Riveters. Teams can be purchased and the ones that haven't by start of the season will be under ownership of the league. They also will be able to provide work visas to Canadian players (the CWHL currently can't offer that to U.S. players looking to play across the border).
Rylan said they plan on marketing games based around theme nights, similar to semi-professional leagues in the U.S. and are actively looking for a TV deal. Teaming up with former U.S. national player Angela Ruggiero, the NWHL has decided a grassroots element was necessary. The league will provide outreach to young female players to grow their fan base and the game.
While the leagues have their different business models and strategies, the heart of both leagues is the same.
"That's the biggest thing, letting girls dream something that is realistic to accomplish. We want the next generation of players to dream of becoming professional paid players and show them that it is a realistic goal," said Rylan.
Posted on: April 27, 2015