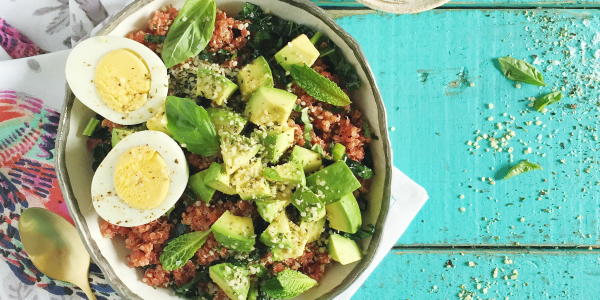 Beet-Stained Quinoa Breakfast Bowl
Kathryn Budig, May 5, 2015, Yahoo! Health
Start your day the savory way with this colorful breakfast. (Photo: Cynthia Groseclose)
Yoga star Kathryn Budig is known for her ability to make yoga accessible and playful through her teaching and writings, but her skills extend beyond the yoga mat – all the way to the kitchen. Below, she shares her recipe for breakfast quinoa.
I love smoothies. I think toast is the perfect vehicle for nut butters, honey, and jams. I get a little emotional over waffles and clap my hands at the mention of brunch. Breakfast cuisine is always a hit with me – but what about when you want to switch it up? I often stay with my dear friend (and Yahoo Health Editor-in-Chief!) Michele when I'm in NYC, and she always prepares quinoa for breakfast.
That's right – quinoa. Not the porridge kind, just straight up quinoa with some lovely accoutrements, such as fresh herbs, hard-boiled eggs, and avocado. It's so simple and so GOOD. It's the perfect way to start the day: a bowl brimming with protein and good fuel to pull us through the day. Last time, she was commenting that her nutritionist wants her consuming beet juice regularly, so I told her it was time to make pink quinoa. I poured it into the bowl, and a gorgeous hue with a hint of earthiness was born.
The beauty of this bowl is that you can always change it up: Add hard-boiled or soft-boiled eggs, kale, chard, multitudes of fresh herbs, kimchi, the list goes on.
Click through to Yahoo! Health for the full recipe.
Posted on: May 6, 2015