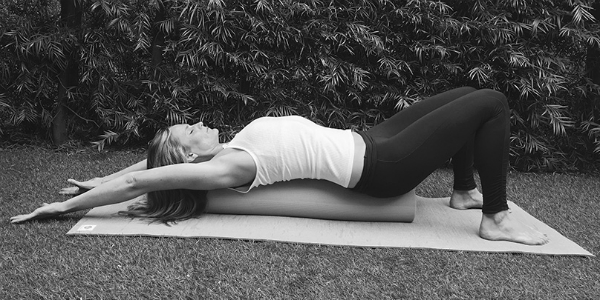 Undo the Day with Lauren Roxburgh
UNDO THE DAY: DECOMPRESS THE NECK & LENGTHEN THE BACK
Goop.com, May 14, 2015
Do you find yourself slumping forward with more and more frequency, unable to stand up straight for more than a few mindful minutes? Is your upper back tight and consistently sore? Are your shoulders perpetually hunched? If so, you're in the company of pretty much everyone else. "Modern life for a 21st-century woman is a jumble of multitasking phone calls, emails, work, working out, grocery shopping, driving, being a mama, cooking, and myriad other demands," explains fascia and alignment specialist, Lauren Roxburgh. "We forget how to breathe, and we move through our days feeling like the 'weight of the world' literally sits on our shoulders." Undoing the day, though, requires a bit more than just kicking back with a glass of wine. "Far be it for me to deprive you of your daily dose of resveratrol," she adds, "but before you stumble onto the couch with that Cabernet, take 10 minutes for the exercises below." As she explains, "Too often we end up slumping our head forward as we peer at the computer screen, or our phones which can cause muscle strains, tension, stiffness, a shortening and thickening of the neck, disc herniations, spinal compression, and even pinched nerves. And on an aesthetic level this can also compress the beautiful and elegant natural curve of your neck and the rest of your spine to make you look and feel slumpy, dumpy, and depressed." But there's hope for us all below. (For more from Lauren, see her longer legs sequence, and her moves for a slimmer waist.)
Q
Most of us spend an inordinate amount of our time sitting at our desks-and then at the couch at home. We know it's not awesome, but just how bad is it?
A
Sitting for extended periods of time reduces circulation and the supply of oxygenated blood in the body and tightens us up. According to a study in the Journal of the National Cancer Institute, not only has inactivity like sitting at a desk for long periods of the day been linked with diabetes, obesity, and cardiovascular disease, it can also increase the risk of certain cancers.
So evidence is in: Basically, sitting is the new smoking. We were designed to move, stretch, and breath, not to sit or be stuck in one position all day. Sitting for long periods slows down all of our systems and decreases energy, metabolism, and even creativity.
Depressingly it gets worse. Not only is it unsightly when we are hunched over at our desks, but it can also mean that the connective tissue becomes "glued" into a slumped position that actually damages and compresses your entire body even further. Too often we end up slumping our head forward as we peer at the computer screen, or our phones which can cause muscle strains, tension, stiffness, a shortening and thickening of the neck, disc herniations, spinal compression and even pinched nerves. And on an aesthetic level this can also compress the beautiful and elegant natural curve of your neck and the rest of your spine to make you look and feel slumpy, dumpy, and depressed. But while it can be a recipe for disaster, there are things we can do.
Q
Any quick tips for improving desk posture?
A
First and foremost sit up, take a deep-breath, and roll your shoulders up and down and twist your neck from side to side every 20 minutes. Second get up and move around regularly throughout the day at least once every hour. Set a timer. Walk around the office, go outside, and get some fresh air. Check in with a colleague or take a call as you wander the corridors. Not only does this encourage you to realign your body and posture but getting a few decent lung-fulls of air can also help to increase productivity.
Once you're back at your desk, think about your posture and avoid the slump at all costs. It's vital to set up your work station right-most companies will help you with this. Adjust your chair height so your forearms are horizontal to the desktop and in line with your keyboard so your shoulders can stay relaxed, and set your monitor up so that your eyes are in line with the top of your screen. Make it difficult to keep typing should you start slumping.
When at your desk, keep both feet flat on the floor and your knees over your heels. Think of your sit bones acting like the feet of your spine and stay balanced in the middle of your butt with a neutral spine and neck. This will also help strengthen your core. While seated do a few twists to ring out your organs, as well as neck and pelvic rolls. And remember to regularly take a few deep inhales and exhales to keep maximum oxygen flowing to the brain.
Q
What about phone usage-are there any adverse effects from being pitched forward to the side on the phone, or forward on an iPhone?
A
Yes indeed. The average human head weighs about 10 pounds when held upright, but for every inch that your head is tilted forward, extra weight is added to your neck and spine. Unfortunately, many of us do exactly that when we're on the computer or texting-by hunching forward, we're loading up our neck and spine. Choose the zoomed display on your phone to make the font bigger, try to avoid writing long messages from your phone, or lean back in your chair and hold the phone up to eye level so that you don't pitch forward.
You need to be especially careful if you're one of those people who holds your phone in the crook of your neck, wedged against your shoulder. Holding your head in any abnormal position for an extended time can cause structural imbalances, tightening the connective tissue and shortening the neck, which can quickly lead to a world of pain. Try using a headset, speakerphone, or a hands-free set instead.
Q
Are there ways to fully reverse the damage from sitting at a desk for decades, or will we always be fighting slumped posture?
A
Yes! The bottom line is that the body does not want to be stuck in this forward position and responds very quickly to a few subtle and simple shifts. Stretching and rolling the tight muscles along the back of your neck, as well as strengthening the muscles at the front of the neck can help the entire spine come back into a healthy alignment and the proper relationship to gravity.
Correcting a forward-headed body posture should also start with strengthening the core and upper back muscles, expanding the shortened and tighten chest, and pulling back the rounded hunched shoulders and compressed diaphragm. To stretch the posterior neck muscles and remind them of what their job is, you can tuck your chin down and in. This should be done standing, sitting, while driving, or lying on your back. Think about trying to elongate your cervical spine (or neck) and reduce the curve.
Posted on: May 14, 2015