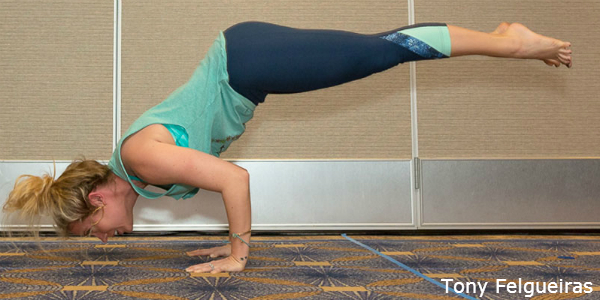 Kathryn Budig's Graceful Tripod-to-Chaturanga Transition
Try this lighter more fluid exit from Tripod Headstand to Chaturanga, keeping a sense of humor and connecting your breath with the transition.
I just taught one of my favorite workshops at the Yoga Journal LIVE! San Francisco called, "I Like the Way You Move." It's all about dissecting our yoga transitions—from stepping or hopping forward in our Sun Salutations to dropping with grace from a Tripod Headstand intoChaturanga. I've taught you how to drop into Chaturanga from Sirasana II before. That option is great when you want drama, to really make a point, or are just in the mood to yell "timber." But I wanted to offer you a less aggressive version. This is how I like to exit the pose when I'm looking to stay light and keep my flow fluid. Test this out, keep a sense of humor, and remember to connect your breath with the transition!
Posted on: May 29, 2015