A Winter Athlete's Guide to Training in the Summer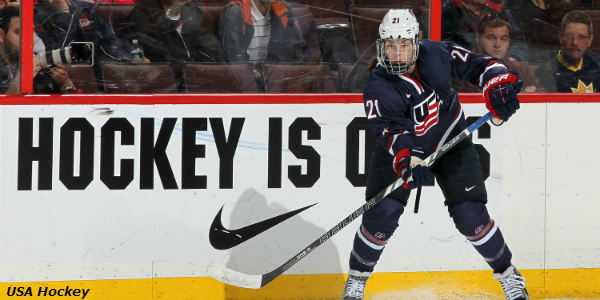 By Mia Hall | June 11, 2015
"I'm not sure if you've seen a hockey player run. It's brutal," Olympian Hilary Knight says. But the U.S. women's national team forward will also be the first to admit how important cardio training is to her summer workout routine.
Not bound by ice or snow, winter-sports athletes have room to get creative with their training in the summer, but the goal is "all about building the base," Knight says. "You have to design a program that covers everything and has the fundamentals to build a successful season."
That's a lot to pack into a few short months, so for some insight into how cold-weather stars make it work, we asked Knight, freestyle skier Grete Eliassen and aerial skier Winter Vinecki for their favorite summer workouts.
***
Hilary Knight: Go hard
"Our summers are known for making our biggest gains," Knight says of the national team players. She says she's lucky that she gets to go to the gym as a part of her job, working out five days a week, and tries to incorporate as much fun into her training as she can.
Her advice for other winter athletes who want to train in the summer is to make sure they practice "periodization," or work on one type of routine for a certain amount of time and then for maximum results. Knight says, "For three weeks you may do a certain level of weights, weather heavy or light, and certain number of reps. The following three weeks, your workout may be focused on faster-paced exercises instead of heavy weights."
As for incorporating constructive cardio, Knight suggests running sprints, using slide boards, riding wind bikes, swimming — even white-water rafting, one of her favorite summer activities, along with paddleboarding. She says they allow her some "me time" as she trains.
Knight's also a proponent of breaking up workouts.
Knight modifies her nutrition in the summer, focusing on low-fat, high-protein, sensible-carb fare. "I have to eat a lot more in the summer because I'm burning more calories. If a normal person eats about 2,000 calories per day, imagine what you'll need if you work out intensely — almost twice as much," Knight says.
She says the key is planning your day to make sure you have access to the nutrients you need — and if you put everything in a smoothie, it makes getting those nutrients in a lot easier!
***
Grete Eliassen: Get outside
"June, July and August offer the opportunity to take time off the snow and do something different, and get out in the sun," Eliassen says. "I'm always in the ski clothes so my body doesn't get the Vitamin D it needs during the winter." She enjoys swimming, rock climbing, tennis, golf and water skiing in the summer months.
Eliassen says she does 300 sit-ups per day during the summer to keep her core strong. It may sound like a lot, but she explains, "During the season it's easier to keep your core strong, as you're participating a lot more." You can also break up the exercise by doing 150 sit-ups in the morning and 150 sit-ups at night, Eliassen says.
Eliassen tries to get out of the gym as much as possible during the summer. "Water skiing is my favorite because it's a full-body workout," she says. She's also found a new love for canyoneering, in which she uses navigation, strength and skill to traverse canyons.
***
Winter Vinecki: Mix it up
The 16-year-old takes a short break to go home and spend time with her active family (they used to build obstacle courses around their house when she was even younger). "Cross-training is really important," Vinecki says, "especially for skiers, because you're taking so much impact on your legs and back.
"To be able to work out your arms is important. You wouldn't think you need them for skiing but it's important to keep your whole body balanced."
For Vinecki, swimming and rock climbing offer killer arm workouts while incorporating some cardio. She's also a big believer in building your own circuits around your house or doing stair runs, burpees and good, old-fashioned track runs at a nearby stadium. Vinecki also uses the summer to hike and play lacrosse with her brothers, using their heavy equipment, as well as participate in obstacle races, which she's been involved with for several years.
She keeps her aerials sharp in the summer on water ramps that go into the pool.
"You have to walk up a great amount of stairs before you even get to the ramp in order to get to the top, which is a work out in itself," Vinecki says.
Click here for the original link.
Posted on: June 15, 2015