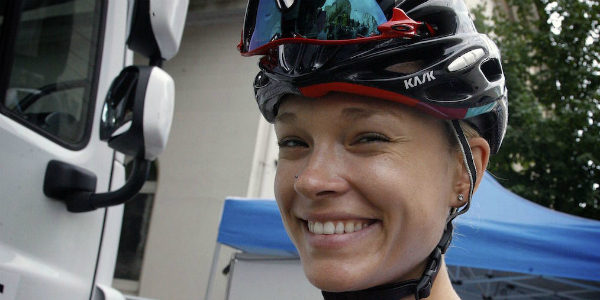 When You Win, It Hurts Less
Originally Published: CyclingTips.com.au, July 24, 2015
Author: Jessi Braverman & Tayler Wiles
Link: http://cyclingtips.com.au/2015/07/tayler-wiles-thuringen-stage-seven-diary/
Tayler Wiles (Velocio-SRAM) has been on double duty for Ella CyclingTips throughout Thüringen Rundfahrt. We've kept her busy over on Ella Instagram with a #TaylerTakeover, and every evening, she called to give us a run-through of her day at the eight-stage German Tour.
Tayler rides for a German-registered squad with a largely German staff and three German riders (including two national champions). For more than half her team, Thüringen Rundfahrt is a home a tour – a home tour that they were to determined to win. And while they won three stages and spent five days in the yellow jersey, Wiles' final check-in following the last stage of Thüringen Rundfahrt was a less than happy one. Despite the best efforts of Velocio-SRAM to close out the week in yellow, they lost the overall lead on the final stage.
We recognise that Tayler's Thüringen Rundfahrt has been a bit of an emotional roller-coaster, and we cannot thank her enough for allowing us to share her stories out of Germany with all of you.
Karol-Ann Canuel (Velocio-SRAM) won the final stage of Thüringen Rundfahrt, but the Canadian looked closer to tears than cheers beyond the finish line in Greiz. Although Canuel delivered Velocio-SRAM's third stage win over eight stages at the German tour, the main objective on Thursday was to defend the race leader's jersey that time trial world champion Lisa Brennauer had worn during six of the seven days of Thüringen Rundfahrt. Canuel had won the stage, but Brennauer had lost the tour.
Fourth overall at the start of stage seven, Swedish national champion Emma Johansson and her Orica-AIS teammates attacked the race to pieces, eventually forcing clear a breakaway that included Canuel, Lauren Stephens (TIBCO-SVB) and Amanda Spratt (Orica-AIS). Stephens, who started the stage in second overall, was a dangerous rider to allow up the road for both Johansson and Brennauer.
At the mid-point of the 98 kilometre stage, Johansson attacked out of the reduced bunch and bridged across to the 11-rider breakaway, taking Brennauer and Amy Pieters (Netherlands) across to the leaders. The effort ultimately cost Brennauer. The attacks continued within the breakaway, and Brennauer lacked the legs to follow.
With the yellow jersey distanced, Johansson threw a final punch, and slipped up the road with Canuel, who started the day in sixth overall. The duo reached the finish line 22 seconds ahead of Spratt and Stephens. Brennauer crossed the line at 1:26, dropping from first to fifth on the general classification.
Johansson's aggressive racing netted her a third overall victory at Thüringen Rundfahrt. Canuel jumped up to second overall, and Stephens rounded out the general classification podium.
MY FIRST THOUGHT THIS MORNING
"Oh man, it's early."
We started earlier than other days, so we had to be up by 7:30 a.m. for breakfast, which is really early for me – especially during a tour. That was my first thought.
My second thought was: "Thank God, it's the last day."
THE TEAM PLAN
The mood was good within the team. We were happy it was the last day, and we were confident we could defend yellow. Morale was high.
We knew there would be fireworks today. We knew Emma Johansson (Orica-AIS) would attack at every opportunity and that her teammate Amanda Spratt would probably also attack. When that happened, we wanted Karol-Ann to cover that move.
Karol-Ann could potentially ride into yellow if she and Spratt got away because she started the day above Spratt on the general classification. Having the two of them up the road would be a better situation for us than Orica.
That scenario did end up happening; however, the break that went had Lauren Stephens (TIBCO) in it and a bunch of other people. It was too big, and it wasn't good for us.
Lisa was meant to stick to Emma today as best she could. And I was looking after Lisa today – which meant doing whatever I could to keep her stuck to Emma.
To read the rest of the story, head to http://cyclingtips.com.au/2015/07/tayler-wiles-thuringen-stage-seven-diary/
Posted on: July 23, 2015