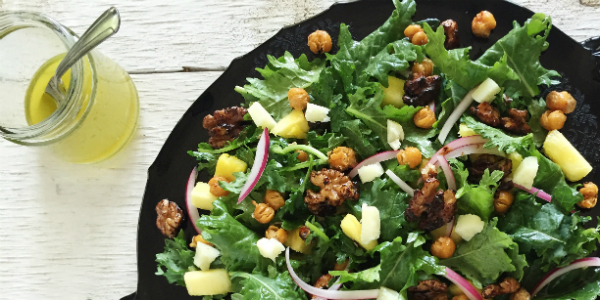 Due West Salad With Bourbon-Roasted Walnuts
Yoga star Kathryn Budig is known for her ability to make yoga accessible and playful through her teaching and writings, but her skills extend beyond the yoga mat – all the way to the kitchen. Below, she shares her recipe for Due West Salad.
I travel for a living, which means finding consistencies in meals I want to eat can be a royal pain in the arse. When I'm home, I get to cook and eat exactly what my body wants-I pick every ingredient and know exactly what I'm putting into my precious vehicle. I do my best when I'm on the road, but honestly, it's a total crap shoot at times.
I returned to teach in Southern Pines, NC, a few months ago. It's one of my favorite stops because of the amazing woman who runs Hot Asana-Virginia Gallagher. She generously offered up her beautiful home to me and my husband, and we were treated with a gorgeous spread of food from her favorite local restaurant, Chef Warren's.
Chef Warren is a true artist and lover of clean, organic yet decadent food. I chowed down on a salad sprinkled with pineapple and fried chickpeas on a bed of satisfying dark, leafy greens. Each bite made my smile wider (which makes for difficult chewing), but I was delighted to know we would be eating so well on a weekend where I normally struggle to find good food.
Today's salad is dedicated to Virginia, her family, and inspired by the wonderful Chef Warren. Thank you all for being so hospitable, inspiring, and just damn fun!
For the full recipe, click through to Yahoo! Health.
Originally Published: Yahoo! Health, August 4, 2015
Author: Kathryn Budig
Link: https://www.yahoo.com/health/due-west-salad-with-bourbon-dressing-photos-and-125859131762.html
Posted on: August 5, 2015