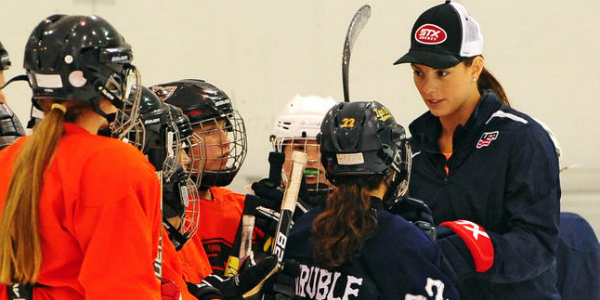 Hilary Knight Brings Her Message to Bethlehem's Steel Ice Center
By Keith Groller, Of The Morning Call
Originally Posted: MCall.com
August 7, 2015
Link: http://www.mcall.com/sports/hockey/flyers/mc-usa-ice-hockey-olympians-steel-ice-0807-20150807-story.html
Bianna Decker said she grew up playing ice hockey with three brothers.
Hilary Knight said that when she growing up she played on all-boys team and "encountered lots of bullying just by being the only girl. I cut my hair just so I wouldn't get hit on the ice."
But Decker and Knight, members of the U.S. national women's ice hockey team, are proud that things have changed and the opportunities for girls to get on the ice have greatly increased.
Decker and Knight were at the Steel Ice Center in Bethlehem on Friday to help promote the opportunities now available to girls.
They gave an on-the-ice clinic and participated in a lengthy Q-&A with about 40 members of the Lehigh Valley Phantoms Youth girls program.
Even though it was cold inside the rink, there were plenty of warm feelings to go around.
"It was the opportunity of a lifetime for these girls to meet Hilary and Brianna," said Lauren Patterson, vice president of operations for the Phantoms' girls program. "Girls ice hockey is on the rise. We grew from nine players in the club last year to 45 and it's growing every week."
Decker and Knight told the girls about how they got started in the sport and how they worked their way through the ranks to play at the University of Wisconsin and then represent their country on the international scene.
Knight, 26, was on the 2010 U.S. Olympic team that lost to Canada in Vancouver in the gold medal game and the one that fell in overtime to Canada for the gold in Sochi, Russia, in 2014.
Decker, 24, was one of Knight's teammates in Sochi and the two are longtime friends bonded by their love of the sport.
Their clinic was hosted by Olympify Hockey, which Knight and Decker started earlier this year with friend Harry Plumer.
Olympify's mission is to empower girls on and off the ice by demonstrating the dedication required to become an elite hockey player.
"We feel that it's part of our jobs to give back to our sport and grow the game in any sense," Decker said. "The Olympics has definitely changed women's ice hockey. It has grown so much in the past 10 years or so. It keeps growing year after year. It's great to see the girls out on the ice. I want women to enjoy hockey as much as men do."
Decker said she had a lot of positive role models growing up.
"Angie Ruggiero, Julie Chu, Jenny Potter … and now we're those people trying to fill those shoes," she said. "We want to inspire the young kids the way they inspired us."
Decker grew up in a Wisconsin town of 1,500 people and has seen the sport there and all parts of the country.
Knight, who said it's important for girls to play as many sports as possible, notes there are challenges for kids who want to play ice hockey.
"The No. 1 challenge is just getting to the rink and putting your kids on skates," she said. "One of my No. 1 goals is to make hockey more affordable to more people. I definitely have a fear that our sport is becoming a niche sport. I want to make it more affordable and encourage parents to try something new, put skates on their kids even if they haven't skated themselves.
"My parents never skated, but they put skates on me and my brothers and look what happened."
Certainly, Decker and Knight brought an enthusiasm to the Steel Ice Center that rubbed off on the girls as well as their parents..
Decker and Knight flashed delightful personalities that kept the sessions light-hearted.
"We're just trying to have fun with the kids and teach them a few things here and there," Decker said.
"The one message I want to get across is that if you put your mind to it, you can achieve anything," Knight said. "As cliche as that sounds, it's something that both Brianna and I believe in and it has gotten us to where we're at right now."
And they're clearly not finished. Both intend to be on the 2018 U.S. Women's Olympics team that will participate in Pyeongchang, South Korea, and they hope to have a different ending this time.
"You have to think about what happened in the last game," she said. "They're ingrained and that's part of the fabric of what makes you you. Unfortunately, we gave away the gold medal and we're not going to do it again. We're motivated every day and it's something that fuels the fire in our belly."
Posted on: August 10, 2015