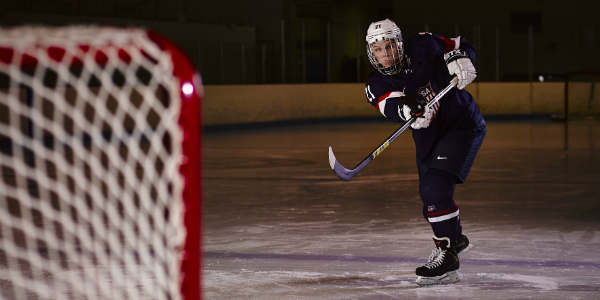 What Hilary Knight Means for the NWHL
By Kaitlin Cimini, TodaysSlapshot.com
August 11, 2015
Original post: https://www.todaysslapshot.com/nwhl/what-hilary-knight-means-for-the-nwhl/
It was a combination of both surprising and completely expected to learn that Hilary Knight went on record as saying she planned to sign with the NWHL before free agency ends August 17.
Expected because she has lent her face to the league, attending the launch party in April at Chelsea Piers in New York, appeared on SI Now with league founder and commissioner (and, coincidentally, New York Riveters GM) Dani Rylan to talk up the league and made appearances at the Beantown Classic with NWHL signees.
Surprising because fans have been expecting this signing since April. To finally hear official word it will happen is a shock to the system.
Knight spent the most of her time at the Classic with new Connecticut Whale coach, Jake Mastel, who stood behind the bench for the Classic team Knight played on, Team RBK.
However, at the event she posed with Riveters goaltender Nana Fujimoto for a photo for Fujimoto's new Twitter account, and has continued to talk the league up New York-based publications, such as The Cut. Said publication leaked the news of Knight's intent to sign with the new league Tuesday morning.
"What I love about Dani is her willingness to just go get something done," Knight said at the Play Like a Girl breakfast in July. "She's unstoppable. She saw the struggles of the girls who were training for the Olympics and were trying to scrape pennies off the ground to sustain themselves, and also the girls who are out of college and don't have a place they can play. And she went out and found a solution."
While fans have been waiting for Knight to sign with the NWHL since day one, particularly given her vehement support of the prospect of a league that would pay her and other women athletes for their skills, her signing may have beenhindered by prior contracts with the CWHL.
A situation that certainly would have held back the NWHL's publicity blitz prior to the end of free agency, and which likely made adding high-profile players to the roster an additional challenge. But now that it's official, how does the Knight signing impact the NWHL's bottom line?
Knight brings a lot of things to the NWHL. Prestige, in the form of two Olympic silver medals, a recognizable face attached to someone who has made it her mission to improve the profile of women's hockey in sports, and a way to silence critics who pointed to the lack of truly high-profile women's players as a reason the league would fail.
In women's hockey, it doesn't get much more high-profile than Hilary Knight. At least when it comes to U.S. players.
Knight is a power forward whose scoring prowess is unbelievable. Knight was a three-time All-American at the University of Wisconsin, playing in the NCAA championship game all four years of her college career and won two NCAA titles. She graduated as the Badgers' all-time leader in goals (143), game-winning goals (30), power-play goals (37) and shorthanded goals (eight). She totaled 262 points in four seasons.
Knight had seven assists during the 2010 Vancouver Olympics, and helped the United States win a silver medal. She was the youngest player on the 2010 team. At the 2014 Sochi Olympics she put up three goals and three assists, once again taking home silver.
Beyond that, she has gone out of her way to dedicate herself to women's hockey. She regularly gives interviews to ESPN W, appeared everywhere she could likely fit in her crammed schedule for the Play Like A Girl campaign, and due to her hard work, has become a face even non-hockey followers will recognize.
Knight was invited to participate in practice with an NHL team as a part of World Girls' Ice Hockey Week. Knight donned an Anaheim Ducks jersey in Oct. 2014 and hit the ice.
The Ducks estimate that Knight was the first woman to participate in an NHL regular-season practice, and the third to take the ice with an NHL team overall. Hayley Wickenheiser attended Philadelphia Flyers rookie camps and Manon Rheaume played a preseason game in net for the Tampa Bay Lightning.
Knight's addition to the NWHL will certainly entice other high-profile players to sign with the league, be it this season or the coming season. Players such as Amanda Kessel, who, should she return to a high level of hockey after her most recent concussion issues, the CWHL's Meghan Duggan or Julie Chu might be interested in suiting up with – or against – their former teammate.
If the NWHL is able to sign Knight as well as other well-known athletes to their teams, it will certainly lend credence to their claims that they want to be a place for the best women hockey players in the world to play, among critics and fans alike.
The CWHL was likely reluctant to let Knight go because it would be a blow to their profile in the hockey world. Knight is featured on the Boston Blades website, backed by the Leonard P. Zakim Bunker Hill Bridge, the largest cable bridge in the world and a familiar site to Bostonians.
However, the CWHL may have found Knight's replacement in Hayley Wickenheiser, who recently committed to entering the 2015 CWHL draft in hopes of going to the Calgary Inferno. The addition of Wickenheiser will likely up the number of tickets sold and streaming services bought, as she is widely considered the greatest women's hockey player in the world, as well as the CWHL's profile in the media.
Posted on: August 12, 2015