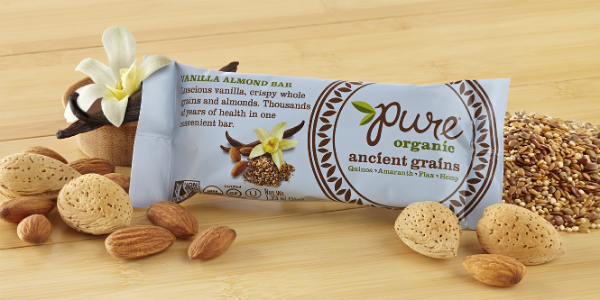 Well + Good: The 6 Best Vegan Protein Bars
Pure Bar was recently featured as one of Well + Good's 6 best vegan snack bars. Here's what they had to say:
Originally Posted: Well + Good
September 29, 2015
By, Lisa Elaine Held
"In a dream world, everyone would walk around with pre-workout fuel from real, whole foods," says Miranda Hammer, a highly educated, credentialed RD who shares her "veghead" recipes on her popular blog, The Crunchy Radish, "but that's not realistic for everyone, and if you're on the go and didn't have time to plan accordingly, a bar can be a saving grace."
If you're a vegan, though, you'll have to spend even more time flipping over said bar and scouring the ingredient list and nutrition facts to find out if it will give you a healthy boost or destroy your balance diet in one packaged swoop.
Things to watch out for? Hammer says the amount of sugar and how many different types of sugar are included is the most important. "A lot of these are glorified candy bars." The source of sweetness is also key. Many vegan bars are filled with dates, for example, which is way better than high fructose corn syrup but can still raise the sugar numbers to a not-so-great place. Finally, check the protein source. Vegan bars can be packed with cheap, uber-processed soy byproducts, which are no good for your long-term health or short-term digestion.
Too much to handle? Hammer helped us vet a long list of the most popular vegan bars on the market to bring you this quick go-to list of six you can rely on in a pinch.
Pure Bar Organic Vanilla Almond
Pure Bar's signature "ancient grain blend" made with quinoa, flax, and hemp is the first reason this bar gets high marks. It also contains lots of heart-healthy nuts and is certified organic, and while it has three kinds of added sugar (tapioca syrup, agave, cane sugar), they're in small amounts, since it comes in at just 6g total. Eat this one as more of a small snack, since it's got fewer calories and a lower protein count (4g).
Posted on: October 5, 2015