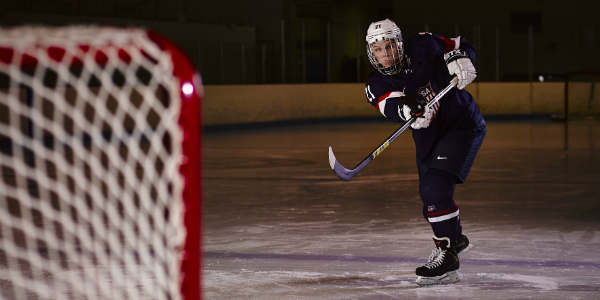 Hilary Knight Interview 2: It's Not About the Money
Originally Posted: Today's Slapshot, October 17th, 2015
By, Kaitlin Cimini
Although Hilary Knight spends a lot of her time working to grow women's hockey through lending her voice to causes, playing remains integral to her life. Knight is an elite athlete in the world of hockey, and recently signed on with a new league, the NWHL, that launched only in April of 2015.
While some might see this as a risky move, a perspective Knight doesn't dismiss,  she also saw it as a necessary risk for herself and for women's hockey in general, though she, like many of the U.S. Women's National Team players I've spoken with, would love to see a future where the CWHL and the NWHL, the two main leagues in North American women's hockey, combine or at least play friendlies against each other to keep up the level of competition.
Knight took the time to do a phone interview with me for Today's Slapshot to discuss her decision to  prior to appearing on a panel at the espnW Summit on managing work and non-professional relationships.
The first half of our interview, focusing on her work to grow women's hockey and the documentary "KNIGHTER," of which she was the subject, can be found here.
Kate Cimini for Today's Slapshot: On the subject of lending your voice, you're going to be on the espnW panel later today. Why did you agree to do this? Why was it important to you?

Hilary Knight: I think the ratio of hockey players out there speaking about things just kind of blows so whenever an opportunity comes along I feel like I have to say yes.
I have to jump at this opportunity because there are so many different fans in the crowd and so many faces that might not have had an experience with ice hockey, might not have even known it was a sport because it's not on t.v. That's the sad reality we have. So, whenever I get asked to speak at a summit, especially the espnW summit, it's an important opportunity to have a good imprint on at least one or two people in the crowd.
You're out there at the Summit with the NWHL Commissioner Dani Rylan, and signed with her league in August. Can you talk me through the process of you ending up signing with the NWHL? (Note: The author misspoke; Knight signed on in September.)

Yeah. It was a very long, drawn-out process. Not from the NWHL's side. We were just trying to get our releases from the CWHL.
Can you tell me when you submitted your release?
Yeah, I submitted mine I think, summer or fall of 2015. That was just because I needed to motivate our base (of U.S. Women's National Team Players), make sure we were all in it together and we were all going to jump over at the same time.
When you're at your strongest is when you have numbers and realizing that you can't really fragment a group. I have a tremendous amount of respect for my (U.S. Women's National Team) teammates as well, and respecting their space of when they're ready to hop ship.
You're looking at this, and you're like, "here's a league that's been around forever. And here's a new league. They want to pay you." And immediately you're thinking, "wait, what? Who ever wants to pay women's hockey players?" Because you've been beaten down for so many years with people saying, you're not valuable, you're not t.v.-ready. You're not like the guys. So why would anyone think any differently?
It almost feels like a dream, that it's not true, that it's not reality. So it took a long time to have this process come full circle. Fortunately Dani (Rylan) was patient enough with all of us and the league and teams respectively opened their arms when we were ready to move over.
When I spoke with Kelli Stack, another USWNT player, who signed with the Connecticut Whale over the Boston Pride, she said she chose Connecticut not just because it meant more money for you all and for her, but also because it meant strong competition between NWHL teams. Was that a concern of yours as well?
Yes and no. I think my biggest concern was that people thought we jumped over to the new league for money.
While that is true in a very small sense, it's more so that the money gives us a quantifiable benchmark of where we are now, and what our value is now. Where we can grow to be. I think if you were asking any of us it was not about the money; it was about setting a standard and taking that first step forward, no matter how big or how small people think our salaries are.
Are you at all concerned about being able to keep up with the Canadian National Team when you and the U.S. Women's National Team players face them in 2016? Or maybe them being able to keep up with you, because you guys took away their competition when you left the CWHL?
I think it goes both ways, to be honest. I think if anything, it'd be nice to have friendlies against one another, to have a co-league collaborative but I don't think we're at that position yet. They don't get to see us in their league and we don't get to see them. But just from our tournament in the past fall (against Team Canada) we were the better team.
I'm comfortable in our training environment right now and just competing against my own teammates because they're really fast. We really challenge one another tremendously.
Similar to the Olympic team, on the Boston Pride you all play a really fast, really skilled game. How do you see your role on the Pride versus how you see your role on the Olympic team?
I think for me personally, whenever I approach a game, regardless of if it's with the U.S. team or the Pride, I want to be the best player on the ice. And that's what I strive for every time I step foot on the ice. My intention and my tone don't necessarily change but there are differences among both games.
You're one of 72 woman players who have really advanced athletics by getting compensated for playing professional women's ice hockey. This is huge for women's hockey, and might be one of the biggest things since the 1998 Nagano Olympics. How does that impact you as a person?
I don't really think about it unless I get asked questions like that. [Laughs]
I'm so in tight to it right now I don't really – and I won't necessarily – understand the impact or the magnitude of the decision that we've made until years later. I think that's a good thing because I don't have that extra burden of worrying about other people necessarily. I think it's going to positively impact other people if I continue to go out and do my job every single day.
I remember talking to a couple of my mentors (when the NWHL came about) asking, "What should I do? I'm in this position where I make waves. What should I do?" This is a huge move. And they're like, "you know, if you don't at least try it out you're going to sit at the same table you sit with all your teammates and go back and forth about the same old thing, and why not try something new? Why not just step over, try it out? If it doesn't work, at least you tried something different." And then if it does work, I mean, Holy. This is a whole new door, a whole new level. A new landscape and blue skies, with a vision that's going to be unlocked.
It's really the players and the fans that are missing out with the leagues divided as they are. Hopefully years down the road they can really collaborate with one another and bridge that gap.
Which individuals have had the biggest impact on you as a person or a player?
I think Angela Ruggiero, to be honest.
I made the US team when I was in high school and that was a very overwhelming and exciting experience in itself, and she really set the pace and set the standard for me to be comfortable and grow into my body and grow into this voice that I have now.
At the same time, she's a brilliant woman and busy as heck. She's probably the busiest woman I know, being the president of the Women's Sports Foundation, sitting on the IOC (International Olympic Committee) or working her normal job. She really inspired me to maximize my day and figure out how I can have a positive impact on other people. She really laid the groundwork, really got the wheels turning for me to follow in her footsteps, in a way.
Going back to the topic of the NWHL, they haven't made their finances clear to the public, or to players. What made you comfortable enough to jump over?

I'm a vision and a dreamer and a hope kind of person. I sat down with Dani and had dinner with her family and I guess I'm kind of a handshake, old-school person. If you say you're going to do something I believe in that, especially if I'm feeling that energy from them. That's something I felt and it's sort of a heart-chasing decision that I made.
Also, too, just being a player, it's not necessarily my job to worry about where the finances are coming from as long as what is being said by the league is actually being delivered upon as well, and is constructive for the players.
Were you one of the players who took photos with your first check and posted it to Twitter?
I didn't! I did not.
How did it feel to get that?
It was great. I got that check and I was just going to go home and just continue my routine, go to bed, get up the next day, whatever. And I sat in my stall a little bit longer, and people had left by then, and I said, you know what, I'm going to go out to eat.
So I took myself in my sweatpants and sweatshirt and I went to a steakhouse. And celebrated.
I remember texting one of my friends and he said, why didn't you ask me to come with you? I totally would have come and I was like, no, I just want to do this on my own because it's finally coming to the surface. Everything's coming together and it was such a good feeling.
Is there anything else I should have asked about that I didn't get to?
I don't think so. I guess I just challenge everybody in their respective markets or just tune in through the stream and watch fantastic hockey. They are a part of our history as well.
You don't want to get a plug in for your jersey? (Author's note: players earn 15% of the proceeds from jersey sales with their name on the back in addition to their negotiated salary.)

Buy a Knight jersey! [Laughs] No, I think the Pride jerseys are the most attractive ones, so if you want to buy one, that's a good choice.
To read the original story, click through to Today's Slapshot.
Posted on: October 21, 2015