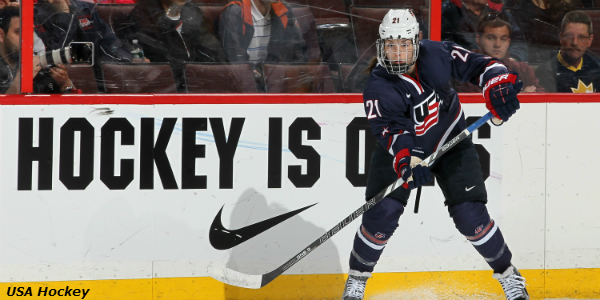 Hilary Knight Interview Part 1: On Growing the Game
Originally Posted: Today's Slapshot, October 17th, 2015
By, Kaitlin Cimini
Hilary Knight is one of the hardest-working women in women's hockey. From appearances to speeches, women's empowerment campaigns, films and then, of course, actually training for and playing ice hockey, Knight is scheduled from the time she wakes up through next Sunday.
"There aren't enough hours in the day for what I have to do," she told me, chuckling a little before the start of a phone interview. She feels a responsibility to represent women's hockey, she said, and to that end she's painfully generous with her time, even re-recording answers that glitched out the first time around. (Author's note: I hate my recording app.)
This is the first of a two-part interview, the first of which focuses on a recent film collaboration by the Mundo Sisters and espnW that focused on Knight, aptly titled "KNIGHTER." We discussed just how accurate a representation the film was of her drive to grow women's hockey, as well as her training in and of itself.
The second half centers more around her recent signing with the NWHL and what prompted her move from the CWHL, which had been her hockey home for years, to the startup league based in New York.
Kate Cimini for Today's Slapshot: Talking about the film itself – what was your impression of it, and how did the very serious tone sit with you?
Hilary Knight: My first impression was that it was very intense. I think it captured the tone very well because what I'm trying to do and what my teammates are trying to do is very intense. At the same time I'm a very lighthearted, make-other-people-laugh kind of person, so I'd obviously like to show that at some point, too.
Though the documentary is about me but at the same time there are so many other people with me who've helped me to be who I am.
My teammates are obviously a driving force in that support system. It's great being a part of the documentary, but there are so many other teammates who play into this picture. I can't score a goal unless there are four or five plays made before the puck actually gets to my stick.
There's a lot of hard work that goes into this for you. What does a typical day look like for you?
A typical day is: I'm up at 5:50 or 6, and in the gym at 6:50, no later than 7. We work out for two hours, and then I've got treatment at the gym. That leads me to 10:30, 11. At 11 I'm going to grab a bite to eat, pick up my hockey bag and head over to the rink for some small skills sessions. Then after that I'm doing emails, phone calls and developing different projects to continue the momentum and the buzz of women's hockey, and really to make a pop culture shift and align women's ice hockey with the right people to continue to gain traction as a sport.
What inspired you to continue to work and grow women's hockey, the sport and the awareness of it?
To be honest, I thought when I graduated college that I could make money doing something that I loved, just being able to play hockey. I thought I could make money from this skill I had developed. Those professional players you see on tv, I thought that would be me. And then realizing once I graduated college that was really far from the truth. I had to pick up a lot of side things to supplement my dream of just being an Olympic athlete.
What was the turning point for you?
Moving to Boston with $1500 in my pocket. [Laughs.] There was a lot of knocking on doors and getting them shut in my face, a lot of, "we think you're great, but we don't know what we can do with you."
I remember one day sitting in a parking lot at Stop & Shop, seeing this guy collect carts. I called my mom, just crying. Nothing against this guy, but he's pushing shopping carts and he's getting paid more than I am. And here I am, I have a college degree, I've been to the Olympics and I'm training for another one. I don't know how to make this all work.
It was really scary at the time, and my mom said, 'Well, why don't you just get another job?'
Not that anyone would understand unless they've been to the Olympics, but it's very hard to put your full whole-heartedness into not just training for the Olympics, but being the best in the world.
Supplementing that with a side job really impedes what you're trying to do in the smallest ways: whether it's not getting that extra hour of free time to get your mental capacity back, not getting sleep or the conference you're at doesn't provide the right nutrition to fuel your body; there's all these little things that over the course of time, really compound into something greater and detract from your ultimate goal.
You said you were working to build women's hockey as a sport. Do you think you've accomplished that?
Yeah, in part. This is only the beginning, to be honest. It was so hard to even convince people that there was a market there. And now people are convinced, they see the market, they see the viewership isn't only contingent on the Olympics and can be continued through the other three years leading up to the Olympics.
It's a very exciting time to be in this sport but at the same time we've done a lot of legwork to get it to this part.
What is it like to be a pro woman athlete and train at an elite level? Is it freeing, or is it lonely, is it exciting?
I'm really lucky because I made the decision to stay in Boston and train with my other teammates who live there. We've got our support system there. But on the other hand, you are making personal sacrifices. You're not going out with your friends all the time. If I log into Facebook a lot of my friends are getting engaged, having babies or moving on with their lives. At some point you hit that lull and you wonder what you're doing with your life.
You have to remind yourself that you're chasing a dream. You're fulfilling this journey you set out on and it's going to be the most satisfying thing when you get to the end of that journey and bring home what you put all this hard work into.
It's just important to surround yourself with really good people so when you do hit those lulls you can kind of lean on them, they can lean on you and you can gain motivation and inspiration from one another.
I think that's the easiest way to put it. It's definitely challenging. You have to make a lot of sacrifices because in the end, it's going to be worth it because you're doing something you love.
Let's backtrack for a quick second and let's talk about the media's embracing of you after the 2014 Olympics. How did you manage that?
Day by day. [Laughs] Sometimes you're getting all these interviews and you have to respond to all these emails and you're traveling all over the world and it gets really tiring. But when I sit and think about it I am very lucky and very fortunate to be in the position that I'm in and have the voice that I have. I think voice is the biggest thing. I've worked so hard just to play hockey that on the back end of that I've developed this stage to speak about different issues, whether it's body image or just inspiring people through social media.
It's also realizing that it's not just about me, and what I feel, it's about how I can impact other people worldwide in a positive way. It does get heavy at times, but at the same time I've got my teammates around me and we're all in this together.
To read the original story, click through to Today's Slapshot.
Posted on: October 21, 2015