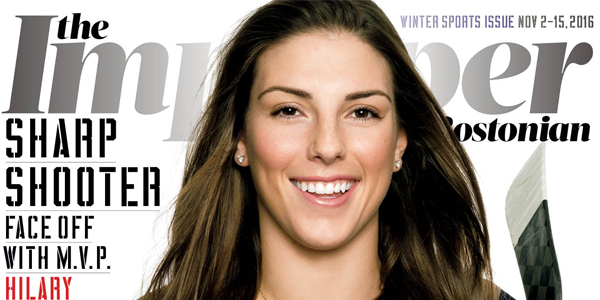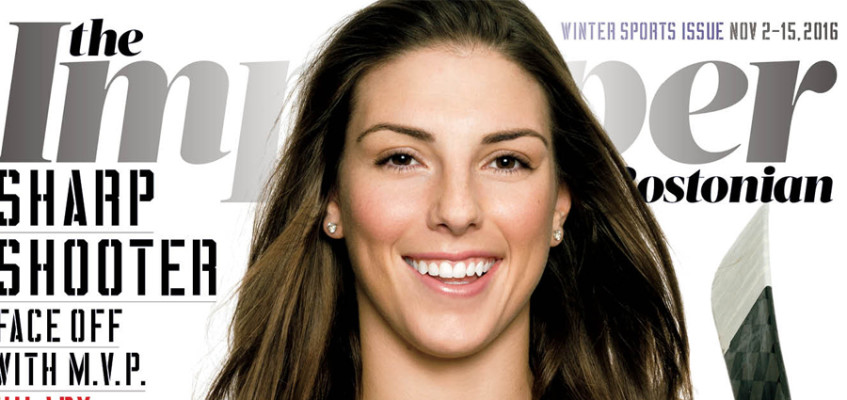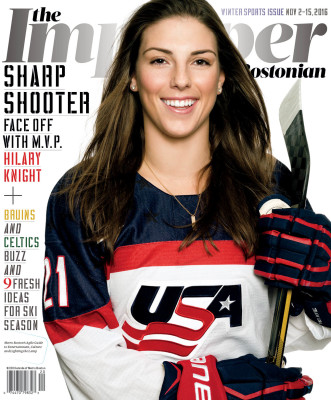 Ice Queen
Two-time Olympic silver medalist and six-time world champion Hilary Knight, 27, plays forward for the Boston Pride. Born in Palo Alto and raised in Chicago, she went to the University of Wisconsin, where she was a three-time All-American, winning two national titles and setting the school's all-time record for goals scored. She has played for the U.S. in eight world championships, winning gold six times, and was named MVP each of the past two years. The team's youngest player in the 2010 Olympics, she tallied seven assists and one goal while earning a silver medal. In the 2014 Olympics, she tied for the team lead with six points while again earning a silver medal. She was drafted by the Boston Blades of the CWHL in 2012 and emerged as the league MVP while helping the Blades win the Clarkson Cup. After joining the Boston Pride of the NWHL in September 2015, she led the team to an Isobel Cup championship as co-captain and became the league's leading scorer in its inaugural season.
Jonathan Soroff: So what do people say when you tell them you're a professional hockey player?
Hilary Knight: "Oh, that's nice. I would never have guessed that."
Does women's hockey get the respect it deserves? Absolutely not.
Is it as rough as men's hockey? It is as physical, but in different ways. It's a very highly skilled game, and there definitely is a lot of physicality and body contact. When people hear "women's hockey," I think they assume it's less physical, and that's hardly the case.
Would you go up against any of the Bruins? Absolutely. Bring it on.
Worst injury you've had? Worst in terms of pain was probably when I tore my MCL. It was just a few weeks before the 2010 Olympic games. A little minor setback just before the biggest opportunity in your life and your career. But what kept me off the ice for longer was hip surgery.
So why don't you have teeth missing, like a lot of NHL players? I protect my teeth. We wear a full cage. But when I'm playing with the guys or my brothers, I don't, so maybe I'm just lucky. It's a risk you run playing with hard flying objects. My mom is very proud of the fact that I have all my teeth.
Most unconventional use you've made of a hockey stick? One time I delivered sausage patties for a commercial photo shoot, and I had to chop up eggs and shoot 'em at people. But hockey sticks are also very useful to get things off of high shelves.
Where do you keep your Olympic medals? Under my bed. I don't know that I should be telling you that. They used to be in the bank, but you want to share them with everybody, so I needed to have them accessible.
What body part on hockey players is better than everybody else's? We've got buns of steel. Actually, all-around, people are looking pretty good in our sport.
Favorite winter sport town? Sun Valley, hands down. I just got back. It's so gorgeous, I already want to go back, but I had to come back to the real world.
Do you somehow know you have a goal before the puck goes in? That's a great question. Sometimes, yes. And sometimes, it's just a good bounce or whatever. People say that goal scorers have sort of a natural touch, but sometimes I am very surprised with myself and how certain things get to the back of the net.
What's the best thing about competing in the Olympics? Oh, my gosh. So many. Feeling like a kid again. And knowing that for however many weeks you are exactly where you want to be. There's nowhere else you'd rather be, and you're in the moment. Plus, you get to share it with your closest friends and family, along with the rest of the world. That's pretty cool.
How about the worst part? The worst part is losing on a world stage like that. You lose, but it's not just you; it's your whole country and everybody else who was rooting for you. You can't bring home a gold medal.
What's the biggest physical challenge you have in your sport or as a pro athlete? Definitely skating backward. Forwards don't skate backward that often, so that would be the transition that's the most challenging. As soon as I finish this interview, I'm going to work on that so no one gets the jump on me. [Laughs.]
Because you're in such peak physical condition, do you get to eat whatever you want? Yes. I have to make sure I balance everything out and get the protein and the vegetables I need, but some days I burn a lot of calories and have a cheeseburger. I love burgers, fries, pizza, so…It's funny. Our coach says, "Don't train to eat. Eat to train." And sometimes I think I train to eat.
Could you ever be a figure skater? Honestly, I'm not graceful enough. I wish I were. I'm willing to try anything. I actually tried a pair of figure skates on last summer. Unlike hockey skates, they have toe picks. I bet my teammate 20 bucks that I could make one lap around the rink, and I made it three-quarters of the way around the rink before absolutely eating it.
You play with long hair. Is it ever a liability? No, it never has been, but one of my fears is having someone grab my hair and pull. And that's never happened, which is good. No one's ever skated over it, either, which is even better.
Most uncomfortable piece of equipment? Probably the garter belt. There's these little things that attach your hockey socks to your shin pads to hold everything in place. Part is metal, and if you put them on the wrong way, you can be sitting on the bench and it just jams into you. The other thing is, whenever you get new equipment, it's the worst to break it in.
Most important piece of protective equipment? My helmet. I fall, so protecting the head is sort of major. But I'd say almost everything. You're skating super fast, faster than you can run, on an ice sheet, with boards surrounding you.
Do you see yourself as a trailblazer? I don't know. Sometimes, when I sit back and contemplate things, I get some perspective. But in other ways, I'm just building upon what came before me and trying to contribute in some way. I hope I can look back and say, "That's awesome that I could do that for whoever comes next." But right now, I'm just trying to have fun.
How messy is the team's locker room? Ours? It's pristine and completely clean. Our equipment manager takes great pride in making sure everything is just so. Everyone hangs up their equipment the same way, in the same order. When we leave the locker room, it looks exactly the same as when we walked in. It's his expertise, and we try to be respectful of that.
So what does life after hockey look like? Oh, my gosh. I have no idea. I think finding another passion that can ignite my inner flame the way hockey does. I understand that I can't play forever, so I guess it will be anything I can find as much joy in.
Photo: John Huet; Styling: Evan Crothers / Ennis Inc.; Hair and Makeup: Kacie Corbelle / Ennis Inc.; Wardrobe: Saks Fifth Avenue
For the complete story, please click here.
Source: www.improper.com
Posted on: October 31, 2016