Happy Thanksgiving from S&Co
In honor of Thanksgiving this month, the S&Co team is feeling thankful and nostalgic. To help us celebrate, we wanted to share our favorite Thanksgiving traditions and a few things for which we're thankful. From our families to yours, Happy Thanksgiving!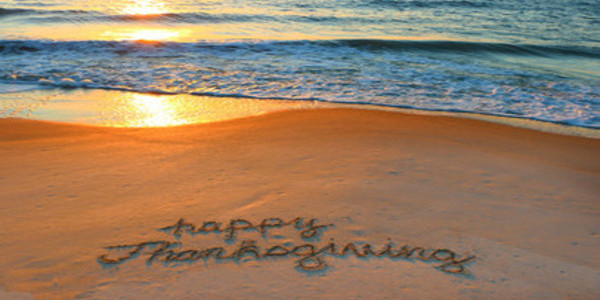 Amy Stanton
One of my Thanksgiving traditions includes a walk to the beach with Bernard for some quiet time to sit back and reflect on all of the things I'm grateful for (Bernard of course is at the top of the list!)
Alafair Hall
I'm thankful to live in a warm and sunny place (LA!) and work with amazing and inspirational people on a daily basis.
Denege Prudhomme
Today and every day, I am thankful for all the blessings God has given me: my health, family, Fancie, friends, my job, freedom, the roof over my head, the food on my table and all of the many opportunities and people that have come into my life. One thing I have learned over the years is to be thankful for what you have. Your life, no matter how bad you think it is, is someone else's fairy tale. And, my favorite Thanksgiving tradition is watching football with my family, and my Grandmother's famous chocolate peanut butter cake!
Jessica Hofmann
I really like Thanksgiving because it is a time to get together with your loved ones and pause to appreciate all that you are thankful for in life. I also like that it's during the fall, but right before winter and Christmas. There's such a special feeling in the air that I love. That said, I am thankful for the four F's – Family, Friends, Food and Football!
Jill Coy
For the past 10 years, I've lived in California and wasn't able to get home to Ohio for Thanksgiving with my family. I've been so fortunate to spend those last 10 holidays, each unique in their own right, with friends and their families, and now I have wonderful memories and even more traditions to celebrate. But this year, now that I live in New York, I'm looking forward to starting a new tradition: hosting my mom and dad for Thanksgiving in NYC. And for that, I'm so very thankful.
Jody Sowa
One of my favorite traditions is drinking mimosas and watching the Macy's Parade while cooking Thanksgiving dinner fixings. And, I am thankful that I live in California and get to enjoy this wonderful holiday season in flip flops with the beach as my backyard. As a Canadian, I am also thankful that I get to celebrate Thanksgiving with my American friends over a four-day weekend!
Kelsey Kearns
My personal Thanksgiving tradition is making a dish each year that is not your typical Thanksgiving dish. I personally do not like typical Thanksgiving foods, so I usually make a yummy pasta dish as well! I have a lot to be thankful for, but most importantly I am thankful for my family for their endless love and support.
Nicole Callas
My favorite part of Thanksgiving at the Callas house is the Greek stuffing. Without fail, every year my mom makes a vegetarian version for me with delicious hazelnuts, walnuts, wild rice, parsley and other spices. It's such a great, healthy comfort food and takes me right back to my Greek roots!
Posted on: November 1, 2016