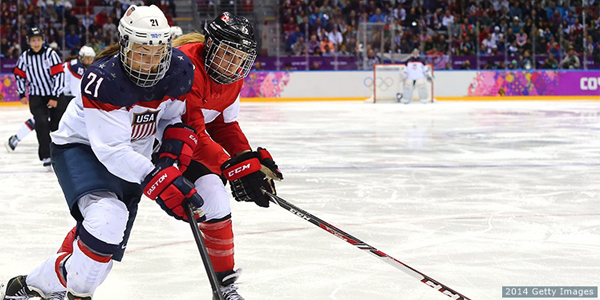 U.S. Women's Hockey Team Downs Sweden In Four Nations Cup Opener
The U.S. women's ice hockey team dominated Sweden, posting a 6-0 win, to open play Tuesday in the 21st Four Nations Cup tournament at Vierumaki Arena in Vierumaki, Finland.
Playing in her fourth Four Nations Cup, three-time world champion Alex Rigsby earned Tuesday's shutout, turning away eight shots.
University of Minnesota product and 2014 Olympic silver medalist Megan Bozek opened the scoring 7:23 into the game, then another Golden Gopher, Hannah Brandt, doubled the lead on a power play goal less than four minutes later. Playing in her third Four Nations Cup, Haley Skarupa was credited with assists on both goals. Two-time Olympic silver medalist Meghan Duggan pushed the lead to 3-0 three seconds prior to the first intermission.
The Americans turned up the offensive pressure in the second period, peppering Swedish goalkeeper Lovia Berndtsson with 11 shots. Playing in her 10th Four Nations Cup, Hilary Knight added her name to the list of scorers at the 28:32 mark off a pinpoint feed from Kendall Coyne. A five-time world champion and twice an Olympic silver medalist, Knight found the net again at 37:29, slipping a rebound shot past Berndtsson for a 5-0 U.S. lead at the second break.
Brandt wrapped up the scoring when she tallied her second goal of the contest at 52:36, with Skarupa earning with her third assist.
The win kept Team USA undefeated in 17 starts against Sweden in Four Nations play. In the past eight meetings, the U.S. has outscored Sweden 49-3, with American goalkeepers posting clean sheets in six of those contests.
Tournament action continues Wednesday against Finland in a scheduled 12:30 p.m. ET match at Vierumaki's Kerava Arena. After a day of rest on Thursday, the round-robin portion concludes on Friday with a key match-up against Canada. The top two teams from round-robin play will face off in the gold-medal game on Saturday beginning at 11:30 a.m. ET, after the bronze medal match at 8 a.m.
For the complete story, please click here.
Source: teamusa.org
Posted on: November 2, 2016