From the Founder, November 2016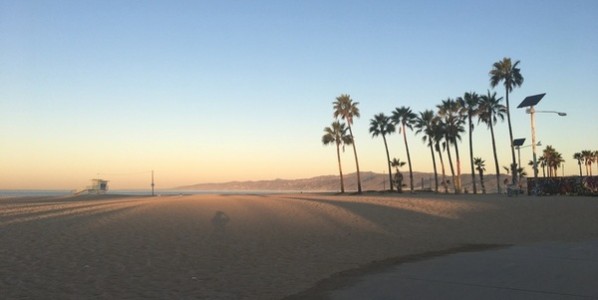 Happy November! I can't believe it's already the fall (of course it doesn't feel like fall here in Venice, with endless summer, but that's ok). It seems like everyone I know is experiencing a particularly fast passing of time. It's scary. And it's exacerbated by a jam packed schedule and lots of work (for which we're grateful!)
We've had a number of successful initiatives, events and partnerships, and I'm so proud of our team and the work we're doing. Every single person on the team has given, and continues to give it our all, and it is for certain that our successes wouldn't be possible without the collective. I'm enormously grateful to our extended team (employees, clients, partners) and it's appropriate to take time to sit with that gratitude, as it is after all, the month of Thanksgiving.
All of that said, I am worn out from the past few months. There has been a lot going on (and it continues) and I'm really looking forward to relaxing and catching up on sleep over the holidays.
I've talked about rituals in the past but I can't help but come back to the topic of self-care. I may sound like a broken record but the busier and more stressful work becomes, the more important it is for me to take quiet time alone and squeeze in my morning runs, green juice, daily meditations and evening baths. Without those, I wouldn't be able to be my best for the various people that rely on me.
I am craving a way to truly detach and feel free from the stress and worry of running a business, client needs, making sure employees are happy and the other things that are my daily obsessions. But recognizing that those things are here, and I've chosen them as my current priorities, I need to find the space within each day and create moments of freedom. Laughing with friends. Snuggling with Bernard. Walking barefoot in the grass… Those moments are more precious than ever, and they truly do bring peace and happiness.
Two books worth making time for during this crazy holiday season…
The first is one that rocked my world earlier this year… I've bought dozens of copies for others because I love the simplicity and impact of it…The Life Changing Magic of Tidying Up. It's about evaluating each item in your house to determine if it "sparks joy" – if not, thank it for its service and give it away (to someone who will appreciate it and receive joy from it). I'm still working on the full unload that Marie Kondo recommends, but the concept stays with me when I think about all of the things (and people!) in my life.
The second is a book that for no good reason took me a few months to read… it's actually a quick read and a fascinating story that we all can learn from…The Surrender Experiment. This book is an incredible story about letting go and leaning in to what the universe has in store. It's a valuable lesson that we all must keep learning over and over again.
I hope you enjoy both of these reads as much as I did.
Wishing you a wonderful November, and a very happy Thanksgiving with your loved ones.
xx, Amy
Posted on: November 4, 2016