From the Founder, February 2017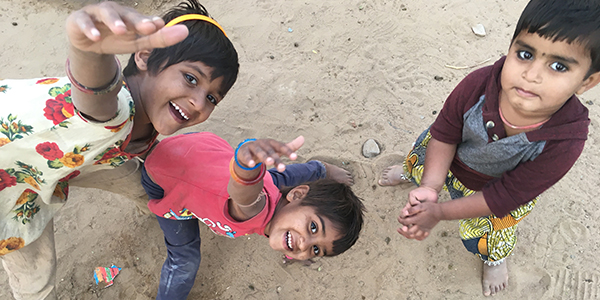 This has been an action-packed start to the year.
For almost a year, I've been planning a trip to India with my friend Akasha. Actually, she has been the one planning it… for her 60th birthday. Akasha lived in India years ago and had always wanted to return. She planned the most magical adventure for 13 of us – it was truly the trip of a lifetime. We started in Mumbai and traveled from there to Rajastan (Jodhpur, Jaipur, Udaipur and one night of glamping somewhere in the middle of nowhere on a dam). I wouldn't change one thing about the trip – Akasha did the most amazing job planning every single detail. Of course the food was incredible because we were with Akasha and two other chefs. We stayed at beautiful places and visited the local artisans in each town. What struck me most was the kindness, openness and peacefulness of the people. People are earnest, hard-working, family-oriented and in the moment. It was inspiring and eye opening. I can't recommend India highly enough – everyone should visit that beautiful country. And I can't wait to go back.
While in India, we missed the Inauguration (I was in some ways glad to be away for this) as well as the women's marches around the country. I woke up in India on Sunday morning which was Saturday evening in the US and saw beautiful photos of all of my friends, male and female, marching in huge crowds, part of one big march for humanity. It was emotional seeing this from afar, knowing I would have been in DC or LA or NYC with my people, yet witnessing the event from the magical country of India, where humanity and kindness was so much a part of my experience. The marches brought out the best in our country's nature – a peaceful yet passionate communication of what matters and what's right. This spirit has continued from that moment and I've never seen or lived through anything like it in our country.
Taking it to another extreme, I went straight from India into the home stretch of planning the NFL Women's Summit. I was the executive producer of this year's teen girl-focused event at Super Bowl VI. I've been working in the women's/girls' space now for 10 plus years and developing the content for the 250+ Houston-based teen girls at this event was amazing… the NFL created an event platform that had real impact on these girls through education, inspiration and an amazing group of speakers. And then I attended my first-ever Super Bowl which was a game unlike any other. And a cultural phenomenon! The energy and fandom and passion and emotion was powerful.
In thinking through the overarching theme for the past month and a half, it's about the power of the human spirit. Whether it's the beautiful nature of the people in India or the passion of Americans marching for humanity or athletes and fans rising for the greatest sporting events of the world, I have witnessed the best in people. And I've realized that I can do this in my daily existence – I'm seeing things in a new way and, while there are so many tough things going on in the world right now, I'm more aware than ever that people are resilient, strong and good in their hearts.
An epic start to 2017. And wishing the same to all of you!
xx
Amy
Posted on: February 14, 2017