S&Co Clients Share Favorite Spring Recipes
Spring is here and our clients have delicious, simple recipes full of seasonal ingredients. See below for some of their refreshing spring dishes.
Nutritionist and NYT best-selling author, Kimberly Snyder, has a variety of easy, healthy recipes to prep your palate for spring.
Pepper Medley Shredded Kale Salad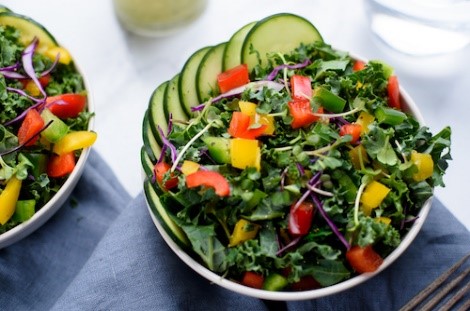 Serves 4 small bowls
Ingredients
2 medium bunches destemmed Lacinato/dinosaur kale, finely chopped
¼ cup thinly sliced purple cabbage
1 organic cucumber, thinly sliced
1 green pepper, chopped
1 red pepper, chopped
1 yellow pepper, chopped
Huge handful of sprouts (whatever organic sprouts you can find locally)
Dressing:
1 avocado, mashed
Juice of ½ lime
1-2 Tbs. of nutritional yeast
¼ cup coconut or plain water
Sea salt, to taste
Freshly ground black pepper, to taste
How to Make It
1 Toss vegetables together.
2 Mix dressing together and toss with vegetables.
3 Serve immediately.
http://kimberlysnyder.com/blog/2017/03/07/bell-pepper-medley-kale-salad-recipe/
–
Veronica Bosgraaf, founder of Pure Organic, also has clean, plant-based recipes from her Pure Food Cookbook that the whole family will love.
Hummus Pizza with Arugula and Wild Mushrooms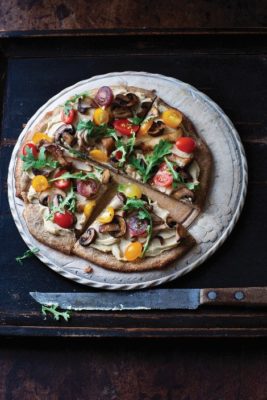 Serves 4
Ingredients
Pizza Dough
¾ cup almond milk, homemade (page 34) or store brought
1 ½ teaspoons grapeseed oil, plus more for bowl
1 ½ teaspoon organic cane sugar
1 cup white whole-wheat flour, plus more for kneading
1 (1/4-ounce) package rapid rise dry yeast
½ teaspoon sea salt
¾ cup whole-wheat flour
Toppings:
2 tablespoons grapeseed oil
4 cups sliced mixed wild mushrooms
1 cup of fresh lemon juice
Sea salt and freshly ground black pepper
½ cup hummus, homemade (page 37) or store-bought
2 cups of loosely packed arugula
¾ cup sliced cherry tomatoes
How to Make It
1 For the dough, heat the almond milk and oil in small saucepan set over medium heat and set aside.
2 In the bowl of a food processor, pulse the sugar until it is finely ground. Add the white whole-wheat flour, yeast, and salt and pulse two or three times to combine. With the machine running, slowly put the hot almond milk through the feed tube. Add the whole-wheat flour ¼ cup at a time, pulsing until the dough pulls away from the sides of the bowl.
3 Transfer the dough to a floured work surface. Knead for 4 to 5 minutes, and then shape into a ball. Put the dough in a large oiled bowl and cover loosely with plastic wrap. Let it rise in a warm place until doubled in size, 1 to 1 ½ hours.
4 Preheat the oven to 425 F. Dust 2 baking sheets lightly with flour and set aside.
5 Punch down the dough and divide it into 4 equal pieces. Lightly dust a cutting board with flour and roll each piece out into a circle that is 1/8 inch thick. Transfer 2 crust to each of the prepared baking sheets and prick the surfaces all over with a fork. Let it rest for 10 minutes.
6 Bake the crusts until golden brown, 12 to 15 minutes. Set aside.
7 For the toppings, heat the oil in a large skillet set over medium-high heat. Add the mushrooms and cook, stirring, until golden brown, about 4 minutes. Remove the pan from the heat and stir in the lemon juice and season to taste with salt and pepper.
8 Assemble the pizzas by spreading the hummus over the crusts and arranging the arugula, mushrooms, and tomatoes on top. Serve immediately.
–
Sambazon has free recipes on its website that you can easily make with their organic açaí products.
Black Cherry Chocolate Love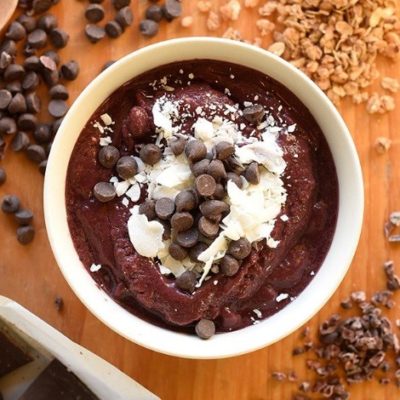 Ingredients
1 Sambazon Original Smoothie Pack
1 Sambazon Performance Protein Smoothie Pack
½ c Chocolate Hemp Milk
1 heaping spoonful Raw Cacao Powder
Dash Vanilla
½ c Frozen Cherries
1 Banana
Toppings:
Granola (chocolate or plain), cherries, candied ginger, chocolate covered cacao nibs.
How to Make It
1 Throw all those goodies in the blender, blitz till thick and delicious.
2 Pour in a bowl and then top with pretty much everything you want…but definitely granola, cherries, candied ginger and some chocolate covered cacao nibs.
Organic. Vegan. Fair Trade. Kosher. Gluten Free. Lactose Free.
Posted on: March 29, 2017