Colorful Springtime Recipes For Your Rehearsal Dinner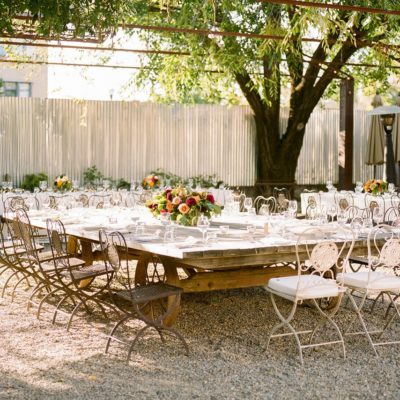 There are so many fresh and beautiful things about spring, especially when it comes to food. Your wedding menu may already be set but the rehearsal dinner can be a good time to experiment with the bolder flavors of the season. When else can you put so much bright yellow and brilliant green on a plate?
"The essence of a thoughtful spring menu is bringing the table to life with flavorful color!" says Sherry Yard of The Tuck Room. The James Beard award-winning chef says it's all about leaving behind those heavy winter flavors and spices like dark brown sugars, clove, allspice and orange, and replacing them with lighter stuff like ginger, star anise, crystalized honey and lemon. With that in mind, here are spectacular springtime recipes that would work perfectly at any rehearsal gathering.

Asparagus with Turmeric-Spiced Almonds
Ingredients:
—1 T. grapeseed oil, plus more for pan
—1 T. agave nectar
—1/8 t. turmeric
—¼ t. sea salt
—Pinch of ground cumin
—1/3 cup sliced almonds
—1 lb. asparagus, tough stems removed and cut into 3-inch pieces
—1 T. fresh lemon juice

Instructions: Preheat the oven to 325°F. Grease a baking sheet with oil and set aside. In a small bowl, combine the agave, turmeric, salt and cumin. Add the almonds and stir gently to coat. Spread the almonds on the prepared baking sheet and bake until lightly golden, about 7 minutes. Set aside. Heat the oil in a large heavy skillet set over medium heat. Add the asparagus and cook, stirring frequently, until just tender, about 5 minutes. Transfer the asparagus to a serving dish. Sprinkle with the lemon juice and then the almond mixture.

Source: brides.com

Click here to read more.
Posted on: April 5, 2017