Meet the S&Co Summer Interns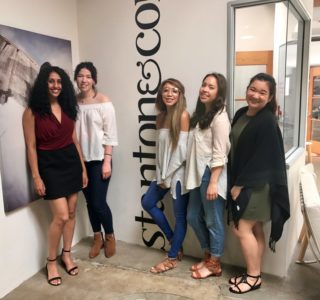 S&Co is excited to announce the arrival of our 2017 Summer Intern Team! Our interns come from around the U.S. (from NYC to Denver to LA!) and have all unique interests and majors. Check out what makes our interns awesome below.
MALLIKA CHOUDHARY 
Why she's awesome: Mallika is passionate about sports – you can often find her watching NBA and NFL games. She's also an athlete herself as a runner on the Northern State University track team. Her dream job is to be a NBA reporter.
School: Northern State University
Year: Senior
Major: Double major in Human Performance & Fitness and Public Relations
Why S&Co this summer? I want firsthand insight into how exactly a PR agency functions and how relationships with clients are being established and maintained. I love how S&Co has a really unique value proposition of tailoring their work to each company, brand, and client that they work with.
MIKAELA HONG 
Why she's awesome: Mikaela enjoys being active outdoors whether that's going on a hike, walking up the Santa Monica stairs, or going for a run. She also enjoys cooking and is taking an Indian cooking class at Sur La Table with her mom this summer.
School: Washington University in St. Louis
Year: Senior
Major: Double major in Marketing and Psychological & Brain Sciences
Why S&Co this summer? I would like to learn more about the various aspects of PR, such as writing press releases, preparing press clips, and using Cision for media lists. During my interview with Jessica, she told me how one of her responsibilities was creating pitches for clients, which particularly interests me, since I enjoy personal interaction. Therefore, I would like to improve my presentation skills and communication skills.
MADELEINE KIM
Why she's awesome: Madeleine is a vegan and enjoys researching nutrition and fun vegan recipes. You will find her constantly on Instagram or YouTube keeping up with her favorite beauty, fashion, and health bloggers. She also has a food blog and is excited to post about the vegan LA food scene.
School: Villanova University
Year: Senior
Major: Communications with a PR specialization
Why S&Co this summer? I want to develop my PR skills. I have taken a lot of public relations classes, but I have yet to see how it is implemented in the real world. I would also like to strengthen my writing skills and learn more about media relations and event planning.
DEANNA LIU 
Why she's awesome:  She is a dancer extraordinaire! Deanna has taken ballet since she was four years old, danced contemporary and jazz in high school and is now the director of a urban choreography ("hip hop") team!
School: NYU
Year: Senior
Major: Economics
Why S&Co this summer? I would like to learn new, innovative ways to communicate. Also, I'm very excited to gain more insight into a more formal internship setting.
TATIANA LOPEZ 
Why she's awesome: Tatiana loves being outside so anything related to the outdoors like walking her dog, going on a hike, and surfing are her main interests! She is a very outgoing and social person and enjoys spending time with her friends and family.    
School: Colorado Mesa University
Year: Senior
Major: Mass Communications
Why S&Co this summer? I want to develop stronger communication skills, learn how to work within a team on a more mature and professional level rather than just in a classroom atmosphere, and definitely acquire more knowledge within the public relations field!
HANA TRATTNER 
Why she's awesome: Outside of school and work, her interests include dancing, reading at the beach, eating at new restaurants and traveling to new places.
School: The George Washington University
Year: Senior
Major: Psychology
Why S&Co this summer?  I hope to develop my team building skills, write press releases, advance my writing skills and gain exposure to client relations. However, my goals overall are to learn everything possible about becoming a superior public relations professional.
Posted on: June 1, 2017