Division I Schools Commit as Women's Wrestling Takes a Big Step Forward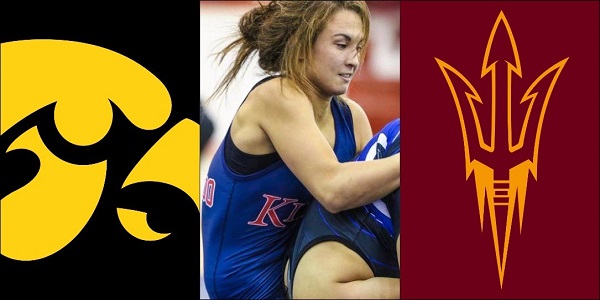 Over the weekend, Wrestle Like A Girl, an organization dedicated to promoting women's wrestling in the United States, announced that a bid to make women's wrestling an NCAA Emerging Sport had been submitted to the Women's Committee On Athletics for review this fall. Included in that announcement was a list of 11 schools that had provided Letters of Commitment, along with budget information, to either continue or start women's wrestling programs. While most of the institutions on that list, one of the requirements for the bid, were familiar to those who follow the Women's College Wrestling Association (WCWA), one stuck out. Arizona State was the only Division I team on the list, declaring their intention to start what would be the first women's wrestling program at the highest level of NCAA athletics. Soon after the release came out, we learned they may be in a race with one of the most storied programs in college wrestling, among others, for that honor.
While Iowa was not on the list of schools provided, Wrestle Like A Girl posted a letter from head coach Tom Brands, dated June 27th, in which he indicated his support for a Hawkeye women's team. I reached out to Sally Roberts, founder of Wrestle Like A Girl and a two-time world bronze medalist, to gain more insight into the process and she explained the Iowa situation as well. Roberts told me that Iowa was the first school to submit a letter, but as the bid was coming together the NCAA rules as to what was required to become an emerging sport changed. Instead of simply a letter of commitment, additional information such as a proposed budget would also need to be included for a minimum of 10 NCAA member schools. Given that this happened in the summer and required a signature from either the Athletic Director or the President of the university, it was always going to be a difficult task. That the infrastructure of women's wrestling is still evolving at the college level made it doubly so. Iowa and three other Division I institutions who initially submitted letters were unable to accomplish the task prior to the August 1st deadline, but that does not mean their intentions have changed.
There are many questions that remain unanswered about what women's wrestling will look like at the NCAA level, though we have confirmed the bid was for freestyle and women's wrestling would be a fall sport. Scholarship limits for Division I and Division II must be worked out, while travel needs will change rapidly as the sport grows. While a minimum of 20 varsity or competitive club teams must exist at NCAA member institutions to gain emerging sport status, a requirement that is already met, there must be 40 sponsoring institutions to propose an NCAA championship. The emerging sports program is intended to grow a sport to that level within 10 years. While some other sports that have transitioned from emerging sport status to hold an NCAA championship, such as Beach Volleyball, have yet to separate into Divisions, allowing Division I, II, and III schools to compete against each other at the championship level, NAIA schools are not included. Of the 30 WCWA teams that competed at the national tournament this year, 17 were NAIA schools.
One of the other interesting tidbits Roberts shared with me is that if their initial submission is approved and they are extended an invitation to present their bid in person, which would happen at committee meetings in April, they would have to meet with each NCAA division individually as Division I, II, and III each make their own decision as to whether to grant emerging sport status. Once that status is granted, women's wrestling teams would count towards the minimum number of sports required at NCAA schools, both in total and for each gender, as well as any scholarships awarded counting towards the minimum amount of financial aid required to be distributed in Division I and Division II. Though it won't be a part of this process, Roberts assured me that they would also be meeting with the NAIA to discuss getting women's wrestling sponsored at that level.
WCWA teams are already required to abide by the eligibility requirements of their respective divisions so the only major change in bringing about an NCAA championship would be splitting off the NAIA schools. While this could be well down the road still for wrestling, all of women's athletics went through this very divide when the Association for Intercollegiate Athletics for Women (AIAW), the association that shepherded women's college sports through their infancy before the NCAA and NAIA started holding championships of their own, decided not to compete with the college athletic organizations already well established on the men's side. This will no doubt be a painful process. However, if NCAA women's wrestling gets the 40 sponsoring institutions to launch their own national tournament, it would mean 27 programs that were not wrestling in this year's WCWA Nationals as NCAA teams have been added, either by new teams being created or by NAIA schools gaining NCAA membership. That tournament, even excluding NAIA teams, would be larger in its debut than WCWA Nationals is now. If the concurrent effort to get the NAIA on board gives those teams somewhere to go as well, the growth will be staggering.
Though women's high school wrestling already features more participants than some other NCAA sports, growth at that level is necessary to fuel additional programs at the college level. Eight states currently sponsor a girl's state high school wrestling tournament with more working to do so. Wrestle Like A Girl and their partners are playing the long game here, knowing that their efforts to get more states to sponsor women's wrestling and their efforts to gain emerging sport status go hand-in-hand. Women's wrestling is currently competing with Acrobatics and Tumbling, two off-shoots of gymnastics, to earn emerging sport status. If women's wrestling wins, suddenly the argument to sanction the sport at the high school level is bolstered. Regardless of what happens at the college level, the work to expand at the high school level will continue. This is not an either/or proposition.
This process is just beginning. As mentioned previously, the bid will be sent to the Committee on Women's Athletics for review this fall. If all goes well, in person presentations will be made in April and each division at the NCAA level will make their decisions known in mid-June. The earliest women's wrestling could become an emerging sport at the NCAA level would be next summer. Still, that Arizona State, a place that through the Sunkist Kids has supported pioneers such as Tricia Saunders, and Iowa would be set to join the effort to expand women's college wrestling is a massive development. There is plenty of work, at many levels, still to be done, but this is a great day for supporters of women's wrestling.
Source: news.theopenmat.com
Click here to read more.
Posted on: August 9, 2017