Veronica Bosgraaf And Chef Cat Cora's Back-To-School Recipes
Veronica Bosgraaf, founder of healthy snack brand Pure Organic and chef Cat Cora have delicious back-to-school treats kids (and moms) will love! Veronica's Raw Chocolate Chip Cookies are made with delicious, plant-based ingredients such as walnuts, dates and cacao nibs – but taste just like chocolate chip cookie dough! Cat's Lemonade Cookies are a mom's magic trick of turning lemonade into cookies for a fun after-school snack or lunch treat.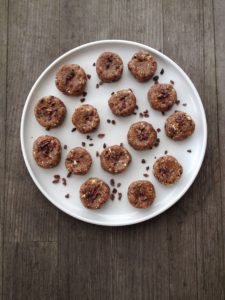 Raw Chocolate Chip Cookies
This indulgent recipe was a winner in one of our Pure Vegetarian Recipe contests. It was created by Emily Davidson and has become a family favorite in our house! Like Pure Bars, these little nuggets are made with unheated ingredients and pressed together without cooking. Keeping the ingredients away from heat helps preserve their nutrients. I am always delighted at how simple and decadent this recipe is. My kids can easily make these cookies in the food processor and snack on them as treats. Try substituting different nuts and spices: add cocoa, cinnamon, lemon rind, or lavender. Play around with various combinations to create healthy sweets that treat your body right. For this recipe I like to use pitted dates that I pit myself because they stay softer that way. You can also soak them in filtered water for 10 minutes to soften.
Recipe
Makes 10 cookies
1 cup pitted dates
3⁄4 cup raw cashews
3⁄4 cup raw walnuts
11⁄2 tablespoons coconut oil
1⁄2 teaspoon sea salt
1 teaspoon vanilla extract
1⁄4 cup cacao nibs
1. Process the dates in a food processor until well chopped. Add the cashews, walnuts, coconut oil, salt, and vanilla
and process until smooth. Add the cacao nibs and pulse to combine.
2. Using your hands, form the dough into 10 cookies. Chill in the fridge for about 1 hour to solidify before serving.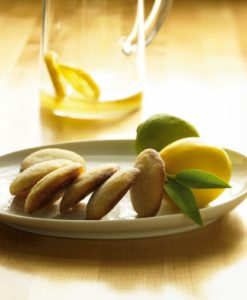 Lemonade Cookies
It's like a magic trick to pull a can of lemonade out of the freezer and say to the kids, "Do you think we can make this lemonade into cookies?" If you want to make the cookie dough ahead of time, it can be refrigerated for several days if you seal it in two layers of plastic wrap. Dough straight from the refrigerator should bake for about 12 minutes; dough at room temperature bakes in 8-10 minutes.
Recipe
1. Preheat the oven to 375 F.
2. Fill a large bowl with warm water and plop in the unopened can of lemonade to thaw while you mix the cookie dough.
3. In a large bowl, cream together the butter and sugar with a hand mixer. Add the lemon zest, if desired. Add the eggs one at a time, beating well after each addition. Continue beating until the mixture is light and creamy, 4-5 minutes, then set aside. In a separate bowl, whisk together the flour, baking soda and salt.
4. Measure out 1/2 cup of the thawed lemonade and set the rest aside. Add about 1/3 of the flour mixture to the creamed butter and sugar. Stir, then add about one third of the 1/2 cup lemonade. Continue adding the flour and lemonade alternately, stirring after each addition, until the mixture shows no streaks of flour. Beat on low speed with the mixer just until all the ingredients are combined.
5. Drop rounded teaspoonfuls of the dough 2 inches apart on an ungreased baking sheet.
6. Bake the cookies, checking them after 8 minutes. When the edges are just starting to brown, remove the cookies from the oven. (The centers will still look soft.) Using a pastry brush, immediately brush the top of each cookie very lightly with a little of the remaining lemonade concentrate, then lightly sprinkle with sugar. Transfer the cookies to a rack and allow them to cool completely.
Ingredients
1 6-ounce Can of Frozen Lemonade Concentrate
½ Pound Unsalted Butter (2 sticks) (Softened)
1 Cup Sugar (Plus extra to sprinkle over the cookies)
2 Teaspoon Lemon Zest (Finely Grated)
2 Large Eggs
2½ Cup All-Purpose Flour
1 Teaspoon Baking Soda
1/8 Teaspoon Salt
Posted on: August 31, 2017