Delicious Taco Recipes for National Taco Day!

Cat Cora's Grilled Chile-Lime Flank Steak Soft Tacos
Instructions
1. For the marinade: In a small bowl, mix the spices, salt, pepper, lime juice, and oil to make a paste. Place the steak in a shallow dish and rub the paste evenly over both sides. Cover and let marinate for 1 to 4 hours.
2. To cook the steak: Grill the steak for 5 to 6 minutes on each side, or slightly longer for well-done meat. Remove from the grill and let rest for 10 minutes before slicing. Meanwhile, place the tortillas on the hot grill and grill for 10 seconds on each side, then wrap in a cloth napkin to keep them warm.
3. Slice the steak across the grain into 1/2-inch-thick slices and arrange on a serving platter. Place the tortillas and the bowl of salsa on the table and serve family-style.
4. The steak and pineapple can be cooked in an oiled ridged grill pan on top of the stove and the tortillas can be wrapped in foil and heated in a 350°F oven.
Ingredients
* 1 Teaspoon Pure Chile Powder
* ½ Teaspoon Ground Cumin
* ½ Teaspoon Garlic Powder
* 1 Teaspoon Kosher Salt
* ½ Teaspoon Freshly Ground Black Pepper
* 2 Tablespoon Fresh Lime Juice
* 2 Tablespoon Extra-Virgin Olive Oil
* 1½ Pound Flank Steak (Trimmed of Fat)
Veronica Bosgraaf's Vegan Tacos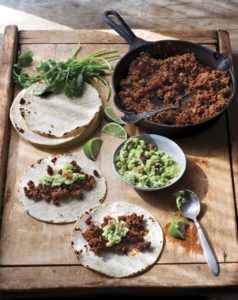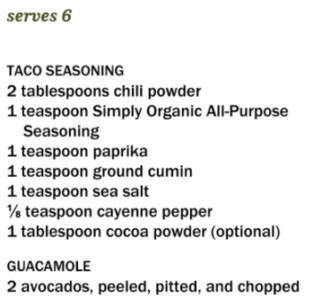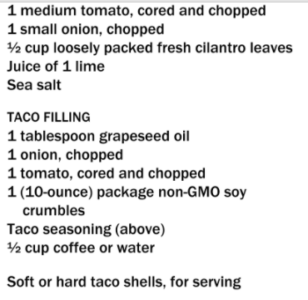 Kimberly Snyder's Spicy Asparagus & Grilled Portobello Tacos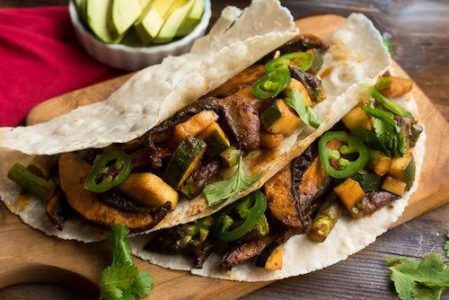 Ingredients
2 brown rice gluten free tortillas (toasted in pan)
4-5 stalks of asparagus, chopped
2 portobello mushrooms, de-stemmed
1 zucchini, chopped
1 Tbs coconut oil + enough to grease pan
¼ of a jalapeño, thinly sliced
Juice of 1 lime
Sea salt, to taste
Freshly ground black pepper to taste
½ bunch of cilantro, roughly chopped
1 avocado, sliced
Salsa
Spice Mix
1 Tbs. paprika
1 tsp. cumin powder
½ tsp. fine sea salt
½ tsp. powdered ginger
¼ tsp. cayenne pepper
Instructions
Start by gathering, preparing and measuring all of the ingredients.
Prep all the ingredients for the spice mix in a small bowl or jar and mix thoroughly.
Chop the Portobello mushrooms, zucchini and asparagus and toss them in a bowl with the coconut oil and your spice mix, as well as sea salt and black pepper to your taste and spread the veggies out in your pan.
Turn on your stove to medium heat and use coconut oil to coat the pan.
Grill for 8-10 minutes on each side or until they are cooked through
Remove from the heat.
Spread the veggies over the tortillas.
Top with the chopped cilantro, avocado and salsa and enjoy!
Posted on: October 4, 2017