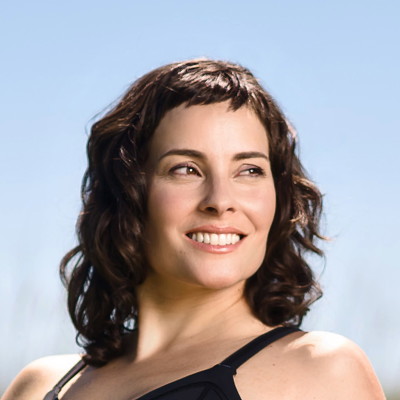 Amy Ippoliti
Yoga Instructor/Marine and Earth Activist
Amy is a yoga teacher, writer, and philanthropist. She is known for her innovative methods to bridge the gap between ancient yoga wisdom and modern day life, helping yoga students "turn up their own volume."
When she was 16, her mother asked if she'd like to try yoga for the first time. The rest was history! She continued to study yoga with various teachers based in the Sivananda tradition through out high school and college.
Amy graduated with a B.A. in Studio Art from Oberlin College, and spent the first part of her 20's teaching fitness and self-defense & empowerment trainings for women, men, and teens. She did this all while working in an eco department boutique in Soho, NYC, care-taking for her baby sister, and continuing her study of yoga with Cyndi Lee.
She graduated from Cyndi's first yoga teacher training in 1997 and began teaching at spas, Crunch Fitness, Equinox Fitness, and at the newly opened OM Yoga Center in New York City. During this time, Amy was part of a number of start up yoga studios including OM Yoga Center, Laughing Lotus, VIRAYOGA, and Yoga People in Brooklyn, NY. She taught to corporate executives at Bear Sterns, Pfizer, and Atlantic Records, as well as authors, prominent CEOs, and Hollywood celebrities. She maintained a clientele of private yoga students while leading several teacher trainings in Manhattan and Brooklyn.
While teaching right below the Jivamukti Yoga Center in the basement of Crunch Fitness, she discovered Krishna Das's voice carrying into the street through the window each night after her class. It was not long before she was a kirtan regular and began touring, and on occasion recording with KD. You can find her vocals on his albums, Breath of the Heart (2001) and All One (2005) (back ground vocals on "Rock in a Hard Space").
In 2004, she moved from New York City to Boulder, CO, where she was located more centrally to travel internationally, teaching workshops and trainings as well as offering teacher training in the Denver area. There, she helped produce and sing vocals for the mantra CD, "Invocation" (2006) with Krishna Das, Manorama, Cat McCarthy, Janaki Kagel, Bill Douglas, James Hoskins, and others. She also recorded vocals for two of Shantala's chant albums, The Love Window and Shri in that time.
A pioneer for advanced yoga education, serving both students as well as fellow yoga teachers, in 2012 she co-founded 90Monkeys, an online professional development school that has enhanced the skills of yoga teachers and studios in 43 countries around the globe.
Amy is a faculty member at the Omega Institute, Esalen and Kripalu. A regular presenter at the Yoga Journal Conferences, Omega Institute Conference, Wanderlust Festivals, and The Hanuman Festival, Amy represents prAna clothing and Boardworks Surf as a yoga ambassador.
Website: http://www.amyippoliti.com