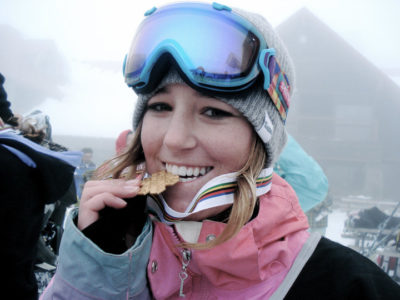 Brita Sigourney
Brita Sigourney may be a newcomer in freeskiing, but she is already taking the sport by storm. She soared past expectations at her X games debut in 2011, where she took home the silver medal in the halfpipe, and followed it with a bronze in the 2012 games.
Now a member of the newly formed U.S. Freeskiing Team, Brita continues to set new markers. Brita made ski history when she stuck a 1080 in the 2012 Winter X games, becoming the first woman to land one in a full women's ski superpipe run. Brita has snagged 3 first place finishes and 2 second place finishes at the U.S. Grand Prixs.
In January of 2014, Brita became the second US woman to secure an Olympic spot on the US Freeskiing team. In February, Brita competed at her first Olympic Games in the debut year of Freestyle skiing as an Olympic sport.
When not on the slopes, Brita can be found in class at Westminster, where she is finishing up her degree in graphic design, a passion she hopes to integrate into the ski industry one day. The California native also loves travelling, the outdoors and of course, the beach.
Career Highlights
2015, SFR World Cup, Tignes, France, Halfpipe, 3rd Place
2015, Winter X Games, Aspen, CO, Halfpipe, 3rd Place
2014, Sochi Olympic Games
2014, Park City Grand Prix, UT, Halfpipe, 2nd Place2013, Visa Grand Prix, Copper, CO, Halfpipe, 1st Place
2013, Winter Dew Tour, Breckenridge, CO, Halfpipe, 3rd Place
2012, Grand Prix, Copper, CO, 1st Place
2012, Dew Tour, Killington, VT, 3rd Place
2012, X Games, Aspen, CO, 3rd Place
2012, Grand Prix, Mammoth, CA, 1st Place
2011, X Games, Aspen, CO, 2nd Place
2011, Dew Tour, Snowbasin, UT, 1st Place
2010, Junior World Championships, Cardrona, New Zealand, 1st Place
2010, NorAm Halfpipe, Boreal, CA, 1st Place
2010, US Halfpipe Nationals, Squaw Valley, CA, 2nd Place
2010, Gatorade Free Flow Tour (only female finalist), 6th Place
2009, US Halfpipe Nationals, Squaw Valley, CA, 3rd Place
2008, 2nd NorAm Halfpipe, Park City, UT, 2nd Place
2008, Junior Olympics Halfpipe, Park City, UT, 2nd Place