Jamie Anderson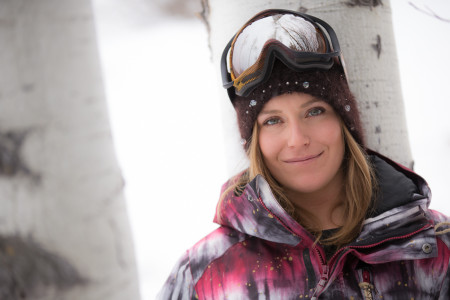 Olympic Snowboarder
Jamie Anderson is one of the top female snowboarders in the world. Known for her strength and unique style, Jamie won the United States a gold-medal sweep in the first Olympic Slopestyle competition at the 2014 Sochi Games. Jamie soared to victory in a near flawless run to make history for the United States as the first ever women's Olympic Slopestyle Gold Medalist.
Jamie has her sights set on the 2018 Olympic Games where she plans to compete for the U.S. in Slopestyle and the newly added Olympic sport of Snowboard Big Air.
In 2015, Anderson partnered with other female snowboarders to create a multi-year film project, Full Moon. The all-female snowboard documentary will showcase the past, present and future of women's snowboarding.
Growing up near Sierra Mountain with eight siblings, Jamie was introduced to snowboarding by her two older sisters and began riding at the age of nine after convincing her mom she was old enough. She quickly rose to the top becoming the youngest Winter X Games medalist at age 15, edging out Shaun White by a matter of days.
Jamie has eleven X Games medals, most recently taking the 2016 Silver in Slopestyle. She notched her fourth slopestyle gold and at the Winter X Games in 2013.
Along with her success at the Olympic and the X Games, Jamie was named the women's TTR World Tour Champion in 2008, 2011, 2012 and 2014, the Winter Dew Cup Champion in 2011 and 2012.
Anderson is making a name of herself with her continued success, appearing on NBC's Celebrity Apprentice after the Olympics in 2014 and gracing the covers of publications such as ESPN the Magazine's Body Issue and Sport's Illustrated's Winter Olympic Preview issue.
In 2014, Jamie won two ESPY awards for "Best Female U.S. Olympian" and "Best Female Action Sports Athlete."
Looking to use her platform for positive contributions within her community, Jamie collaborated with her old middle school to develop a sponsorship program for gifted children who would like to snowboard but lack the funds to do so. Outside of snowboarding, Anderson practices yoga and works with Protect Our Winters (POW) in the fight against climate change.
Career Highlights
2016, World Championship of Snowboarding, Big Air, 1st Place
2016, World Championship of Snowboarding, Slopestyle Test Event, 1st Place
2016, 2018 Olympic Snowboarding Slopestyle Test Event, 1st Place
2016, Quebec Big Air, 1st Place
2016, Laax European Open Champion
2015, US Open Champion
2015, Winter X Games, 2nd Place
2015, Burton European Open, 2nd Place
2014, Olympic Gold Medalist
2014, TTR World Tour Champion
2014, US Open Champion
2014, Winter Dew Tour Champion
2014, Mammoth Grand Prix, 1st Place
2014, Breckenridge Grand Prix, 1st Place
2014, Winter X Games, 2nd Place
2013, Winter X Games, 1st Place
2013, Winter Dew Tour Champion
2013, Copper World Cup, 1st Place
2013, Burton European Open, 1st Place
2012, TTR World Tour Champion2
2012, Winter X Games, 1st Place
2012, US Open, 1st Place
2012, Winter Dew Tour Champion
2011, Winter X Games, 3rd Place
2011, Winter Games New Zealand, Slopestyle, 1st Place
2011, European X Games, Slopestyle, 1st Place
2011, TTR World Champion
2011, US Sprint Grand Prix, Slopestyle 1st Place
2011, Winter Dew Tour, Athlete of the Year
2011, Winter Dew Tour, Dew Cup Champion
2011, Winter Dew Tour, Snowbasin, Slopestyle 1st Place
2011, Winter X Games, Slopestyle, 3rd Place
2011, Winter Dew Tour, Killington, Slopestyle, 1st Place
2010, Winter Dew Tour, Breckenridge, Slopestyle, 1st Place
2010, Winter Dew Tour Cup, Overall Winner
2010, Winter Dew Tour's Toyota Championship, Mount Snow Resort, Superpipe, 6th Place
2010, Winter X Games, Slopestyle, 2nd Place
2010, Sprint USSA Grand Prix, Paul Mitchell Progression Session, Slopestyle, Mammoth Mountain, CA, 1st Place
2009, World Cup New Zealand, 2nd Place Slopestyle
2009, Dew Tour, Northstar, 1st Place Slopestyle
2009, Dew Tour, Mount Snow, 1st Place Slopestyle
2008, Australian Open, 1st Place Slopestyle
2008, TTR World Champion
2008, Winter X Games, Gold Medal Slopestyle
2007, Winter X Games, Gold, Slopestyle
2007, TTR World Tour, Ranked 2nd
2006, X Games, Bronze Medal Slopestyle
Special Awards and Accolades
2014, ESPY Awards for "Best Female U.S. Olympian" and "Best Female Action Sports Athlete"
2013, Snowboard Magazine "#2 Female Rider of the Year."
2011, 2012, 2014 TTR World Champion
2011, Overall Dew Cup Champion
2011, Dew Tour Athlete of the Year
2010, Overall Dew Cup Champion
2010, Dew Tour Athlete of the Year
Won 2009 Transworld Female Rider of the Year
Won 2009 Snowboarder Magazine's Best Female Rider of the Year
2008, Swatch TTR Champion
Nominated for 2008 and 2009 Transworld Snowboarding's Reader's Choice Award
Nominated for 2007 ESPN ESPY award
Nominated for 2007 Transworld Snowboarding's Rookie of the Year Award
Website