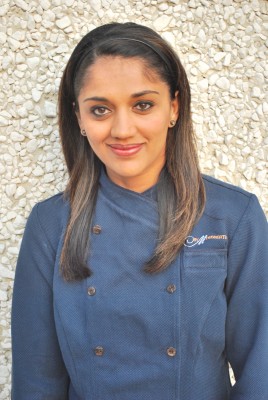 Malika Ameen
Chef
Chicago-based pastry chef, restaurateur and entrepreneur, Malika Ameen's love of unique flavor combinations, fascination with spice and attention to detail began in a food-focused home where family dinners were prepared from scratch each day.
Now one of Chicago's star pastry chefs, Ameen is a graduate of the French Culinary Institute and the Institute of Culinary Education in New York. She established her reputation early, working under award-winning pastry chefs at celebrated restaurants from New York to Los Angeles including Craft, Balthazar Bakery and The Chateau Marmont.
In 2007 Ameen and her former husband moved to Chicago to open Aigre Doux in, which quickly became known for decadent creations like Ameen's infamous Sticky Toffee Pudding. Aigre Doux had a successful two-and-a-half-year run and was noticed by both locals and well-known influencers, including Nate Berkus and Michelle Obama.
Ameen more recently launched her own online pastry business, ByMDesserts (www.bymdesserts.com), which specializes in couture cookies made from the highest quality ingredients and unique flavor combinations. ByMDesserts allows Ameen to continue to share her passion for indulgent desserts and complementary spices, taking others on a journey of unique flavor combinations.Her creations have been featured in newspaprers/magazines such as The New York Times and Food and Wine, numerous local Chicago television shows such as Windy City Live and National platforms including NBC Today Show and The Martha Stewart Show. As of February she will be a contributing editor to Chicago Parent Magazine for quick, healthy and delicious family focused recipes.
Special Awards and Accolades
2007 Voted Chicago's "Best Pastry Chef" and "One to watch" by critics.
2007 received Time Out Magazines "Eat Out" award for best ice cream in Chicago
2005 Voted Top Pastry Chef in Los Angeles by Angeleno magazine
2003 Recognized as one of Los Angeles Top 5 Pastry Chefs by famed critic Irene Virbila of Los Angeles Times
Website