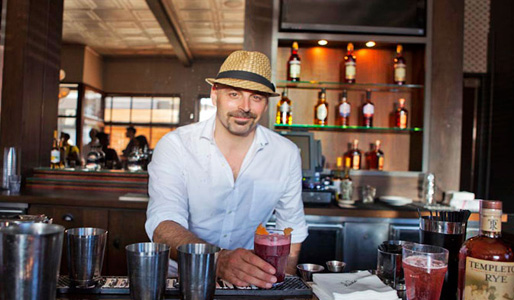 Matthew Biancaniello
Matthew Biancaniello creates adventurous cocktail experiences. He formulates cocktails based on farm-fresh and unconventional ingredients. Never working off a set cocktail menu, Biancaniello visits at least five different local farmers markets a week to source his ingredients, which inspire his imaginative cocktails. Matthew Biancaniello practices the art of Omakase, meaning the customer and bartender create a special experience together.
For the last four years, Matthew has manned the swank Library Bar at the Roosevelt Hotel where he turned this Hollywood has-been into a thriving hot spot among cocktail connoisseurs. The revamped bar includes everything from Biancaniello's very own hand crafted sour mixers, a signature honey farmed from his bee colony, and syrups infused with fresh produce sourced from his farmer's market finds.
Now, the Library Bar's secret weapon is one of L.A.'s star mixologists. Some of his signature cocktails include, the Heirloom Tomato Mojito and the Last Tango in Modena,featuring aged balsamic vinegar of 25 years and fresh strawberries that are infused to create a sweet and savory tart-like taste. One of Matthew's signature sexy addictions is the Upside-Down Deconstructed Umami Milkshake and it is the perfect end to a special evening.
Accolades
In 2010, he placed nationally in the 42 Below World Cup, which brings the best mixologist and bartenders together from around the world.
That same year Biancaniello won Best Bartender in Los Angeles from both Table 20 and Eater LA.
In August 2009, Biancaniello won the Chartreuse Sweet 16 Competition in which each bartender has just five minutes to create a cocktail using at least ¼ oz. green or yellow chartreuse.
Each contestant is allowed to use anything behind the bar including farmer's market ingredients and Biancaniello won with a bell-pepper infused Chartreuse cocktail, beating out 15 of Los Angeles' best bartenders.
Media
Biancaniello has been featured in such press as InStyle, Bon Appetit Magazine, LA Times, NY Times.
He has been a guest on the 8th season of Hell's Kitchen, Unique Eats, and Extra Virgin for the Cooking Channel.