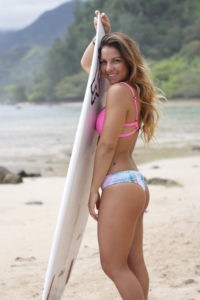 Nagé Melamed
Professional Surfer
Nagé Melamed is an American professional surfer born and raised on Kauai in Hanalei Bay. She was born at home on November 13, 1993. After watching Nagé float to the surface her father exclaimed Nagé (Nagé is a conjugation of the French verb "to swim") and the name stuck. It was only fate that she fell in love with surfing, and she hasn't thought twice about anything else since her feet touched the ocean. Nagé was born into a surfing family and has tossed her way across Hanalei shore breaks and sandbars since the age of three.
Nage's first taste of competition was at The Andy and Bruce Irons Grom event. At the age of 10, she asked her parents if she could start competing in NSSA and HASA contests. Nagé won State Championships, Surfing America Crowns, and NSSA finals in all age divisions, at many stages and levels of competition, including placing 2nd in the Rip Curl Grom Search World Championships in Australia. Nagé started competing on the ASP Women's WQS level at age 16. She finished the year ranked 20th after making it to the Semifinals at the Triple Crown at Haleiwa.
Nagé is now traveling around the world competing in ASP Women's events, as well as representing Hawaii in the ISA World Championships against 30+ nations.
Career Highlights
2013, ISA World Cup, China, 4th Place
2012, ASP World Junior Championships Australia, 2nd Place
2012, WQS 6 Star Event Portugal, 2nd Place
2011, Rob Machado Pro Junior, Seaside California, 2nd Place
2011, Swatch Girls Junior Pro, France, 3rd Place
2011, 6 Star WQS, Portugal, 5th Place
2010, Rip Curl International World Championships, 2nd place
2010, Surfing America Open Women's Championships, 3rd place
2010, NSSA Open Women's National Championships, 2nd place